Published On 12 March,2021 10:24 am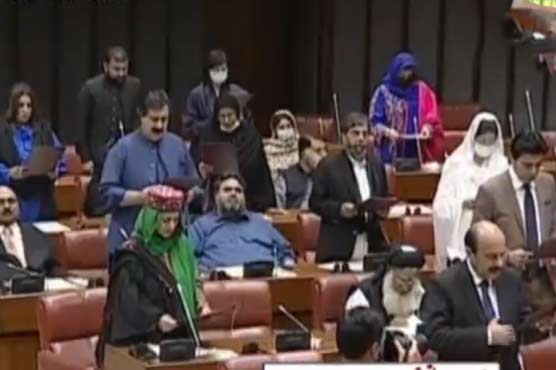 Senator Muzaffar Hussain Shahhas chaired the session and administered the oath to the members-elect.
ISLAMABAD (Dunya News) – The newly-elected 48 members of the Upper House of the Parliament, Senate have taken oath during the specially convened session in Islamabad today (Friday).

Senator Muzaffar Hussain Shah, nominated as presiding officer by President Arif Alvi, has chaired the session and administered the oath to the members-elect.
The senators also signed the roll of members.
The newly elected 11 members from Punjab included Pakistan Muslim League-Quaid's (PML-Q) Kamil Ali Agha, Pakistan Tehreek-e-Insaf's (PTI) Saifullah Niazi, Aon Abbas, Ejaz Ahmad Chaudhry, Syed Ali Zafar, Zarqa Suharwardy Taimur, and Pakistan Muslim League-Nawaz's (PML-N) Afnan Ullah Khan, Sajid Mir, Irfan-ul-Haq Siddiqui, Azam Nazeer Tara, Saadia Abbasi.

From Sindh, the 11 elected members included Pakistan Peoples Party's (PPP) Saleem Mandviwala, Sheher Bano Sherry Rehman, Taj Haider, Shahadat Awan, Jam Mahtab Hussain, Farooq Hamid Naek, Palwasha Mohammed Zai Khan, PTI's Muhammad Faisal Vawda, Saifullah Abro and Muttahida Qaumi Movement-Pakistan's (MQM-P) Syed Faisal Ali Sabzwari, Khalida Ateeb.

The 12 senators elected from Khyber Pakhtunkhwa (KP) included PTI's Mohsin Aziz, Syed Shibli Faraz, Liaquat Khan Tarakai, Faisal Saleem Rehman, Zeeshan Khan Zada, Dost Muhammad Khan, Muhammad Hamayun Mohmand, Sania Nishtar, Falak Naz, Gurdeep Singh, Awami National Party's (ANP) Hidayatullah Khan and Jamiat Ullema-e-Islam's (JUI)Atta-ur-Rehman.

From Balochistan, the 12 elected members included Balochistan Awami Party's (BAP) Prince Ahmed Umer Ahmedzai, Manzoor Ahmed, Sarfraz Ahmed Bugti, Saeed Ahmed Hashmi, Samina Mumtaz, Danesh Kumar, Balochistan National Party's (BNP) Muhammad Qasim, ANP's Umer Farooq, JUI's Molana Abdul Ghafoor Haideri, Kamran Murtaza and independent candidates Muhammad Abdul Qadir, Naseema Ehsan.
---
New polling booth installed in Senate after opposition's claim of spy cameras
---
A ruckus was created in the Upper House as the opposition stood up from seats and staged protest,claiming that hidden cameras have been placed over polling booth. Senator Raza Rabbani said installing spy cameras is violation of the law.
Following the rumpus, presiding officer Senator Sayed Muzafar Hussain Shah ordered to make a new polling booth and allowed both the government and the opposition for inspection.
PPP senator Mustafa Nawaz Khokhar took to Twitter and shared a picture of an alleged camera along with caption, "Myself and Dr Musadik found spy cameras right over the polling booth."
Mustafa Nawaz Khokhar and PML-N leader Musadik Malik talked to media afterwards and asked the Election Commission of Pakistan (ECP) and the Supreme Court (SC) to take notice of the incident.
On the other hand, Federal Minister for Information Shibli Faraz accused the opposition of installing camera over the polling booth and announced to conduct inquiry into the matter.
---
Senate to elect chairman, deputy chairman in a close contest
---
As per schedule, the session has been adjourned to meet again at 3:00pm to elect the chairman and deputy chairman through secret ballot. The candidates have submitted their nomination papers in the office of Senate secretary.
Presiding officer Senator Muzaffar Hussain Shah will announce the names of the candidates during the session and start polling process. Later, the winners will take oath.
It is to be mentioned here that Pakistan Tehreek-e-Insaf (PTI) has nominated Sadiq Sanjrani for chairmanship and Mirza Muhammad Afridi for deputy chairmanship while the opposition has jointly selected the names of Yousaf Raza Gillani and Maulana Abdul Ghafoor Haideri as nominees for chairmanship and deputy chairmanship.