Published On 01 March,2021 06:51 pm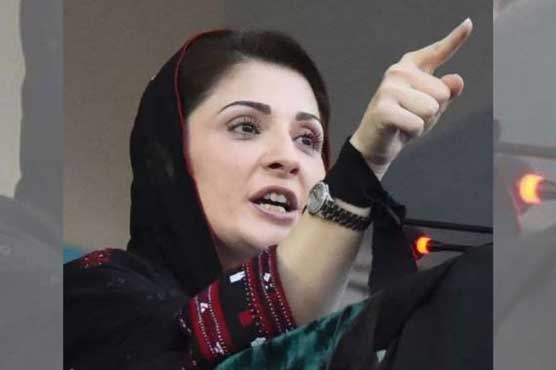 Maryam assails powerless PM Imran
LAHORE (Dunya News) - Pakistan Muslim League-Nawaz (PML-N) Vice President Maryam Nawaz while taunting PM Imran Khan has said that how pitiful is a person who is powerless and helpless being in power.
Taking to twitter, Maryam Nawaz said that when you come into the power on condition of staying on the same page instead will of the people, disgrace becomes destiny if the page is turned.
She said that whether you put a bar code on the ballot paper or sit in the box yourself, those who are preparing to vote against you are more afraid of the anger of the people than of you, as a result of your anti-people policies in three years.
Maryam said those who have kept their doors closed to politicians for three years now begging their own members for vote in Senate elections adding that supporting you is enmity with the country and people, which your supporters have refused to bear.
Earlier She had said that once again it has been proved that constitution is above tricks and references of 'vote thieves'.
Maryam Nawaz, in a tweet had said that government spokesperson are now talking about use of technology in the elections to hide their embarrassment.
She reiterated that no system like RTS or excuses of fog like that were made in by-election of Daska will be tolerated.
Earlier, PML-N spokesperson Marriyum Aurangzeb has said that opinion of Supreme Court of Pakistan (SCP) on presidential reference on open Senate vote is not a victory or defeat for anyone.
While reacting to apex court's opinion, she said that it is responsibility of Election Commission of Pakistan (ECP) to make polls transparent and it is job of the parliament to amend constitution.
Talking exclusively with Dunya News, the PML-N spokeswoman said that the government is trying to twist the SC's verdict. PML-N supported open ballot for election of the Chairman Senate but on that occasion, PTI stole votes and Imran Khan was celebrating the win.
On the other hand, the Supreme Court of Pakistan (SCP), in its opinion on the presidential reference on open Senate vote has said that Senate elections will be held through secret ballot.
The majority opinion (4-1) of the apex court, stated that elections of the upper house of the parliament are held under the article 226 of the constitution of Pakistan.
The apex court has directed Election Commission of Pakistan (ECP) to use latest technologies to stop corrupt practices and emphasized that all institutions were bound to follow the ECP.
The top court, however, also said that the secrecy of the ballot papers was "not absolute".