PML-N demands re-poll in NA-75 Daska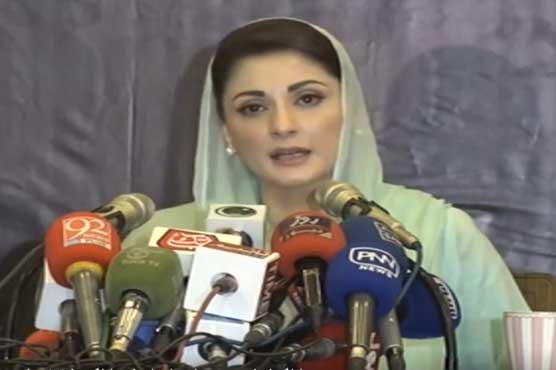 PML-N won resounding victory in Nowshera, Wazirabad, Daska: Maryam Nawaz
LAHORE (Dunya News) - Pakistan Muslim League-Nawaz (PML-N) Vice President Maryam Nawaz has demanded a re-poll in NA-75 Daska constituency.
Talking to media in Model Town, the PML-N vice-president said that we demand a re-poll in NA-75 Daska instead of polling on only 20 polling stations adding that PML-N will not sit quite until a re-poll.
She expressed hope that ECP will not become a tool of fake government and will stand against mafia for the honor of its officers. She said that no matter what ECP does, I will not let them breathe a sigh of relief until they return our victory with lead in NA-75.
She alleged that the workers of PTI, its candidate and his nephews opened fire and spread panic among the people. She said that the victory of PML-N in Punjab is worse than death for the government and has made them senseless.
Maryam Nawaz expressed her heartfelt condolences over the loss of two lives during by-polls.
In Wazirabad, a presiding officer was running away with a bag of votes. Polling was stopped where the lion was winning. They had received orders from inside to slow down the polling, she added.
Maryam said that PML-N got a resounding victory in the three constituencies Nowshera, Wazirabad and Daska.
The PML-N vice-president said that the people of Daska, Wazirabad and Nowshera had woken up after the 2018 elections and kept watch over the votes in by-polls, and caught the vote thieves red-handed this time.
She said that the PML-N workers went out to cast their votes in an atmosphere of rigging. The PML-N workers persevered in an atmosphere of fear and panic. The PML-N won a resounding victory in all the three constituencies.
While congratulating Ikhtiar Wali on winning the election she said that after visiting Nowshera it became clear that PML-N will win the election adding that Nawaz's statement has won there.
Reacting to the press release of the Election Commission, Maryam said that it was a pleasant surprise that Election Commission has taken a stand while exercising its constitutional right.
She said that has anyone ever heard that the entire staff of the EC was kidnapped. 20 to 22 presiding officers disappeared. Phones of 20 presiding officers were also switched off at the same time.
No one knew where the staff of the Election Commission was, the EC is also saying that there is a suspicion of rigging and re-election should be held at 23 polling stations.