By-elections on four vacant seats to be held on Friday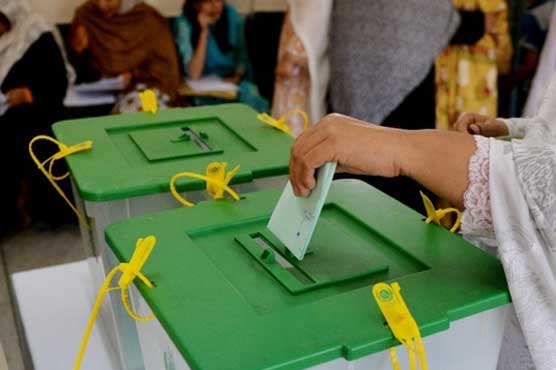 By-elections on four vacant seats to be held on Friday
ISLAMABAD (Dunya News) - According to a statement issued by the Election Commission of Pakistan (ECP), the vacant seats on which by-polls are scheduled include NA-45 Kurram, NA-75 Sialkot, PP-51 Gujranwala and PK-63 Nowshera.
Rangers and FC officers deployed outside polling stations will be able to take action against any irregularities or violations, however, they will be required to notify the relevant presiding officers before taking said action.
The seat of NA-75 Tehsil Daska, District Sialkot was vacated after the death of PML-N's MNA Syed Iftikhar-ud-Din in August 2020.
Provincial Assembly seat PP-51 Wazirabad was vacated due to death of PML-N MPA Chaudhry Shaukat Manzoor Cheema in June 2020 due to coronavirus.
PML-N has fielded women candidates for both the seats in the by-elections. Noshin Iftikhar, daughter of late Syed Iftikharuddin, has been given party ticket in NA-75 constituency. Ali Asjad is PTI coalition's candidate for the seat.
Similarly, ticket has been given to Talat Manzoor Cheema, wife of Chaudhry Shaukat Manzoor Cheema, on PP-51. PTI's Chaudhry Yousuf Mehr will contest against her.
In NA-45, PTI candidate Fakhr Zaman Khan is contesting against Jamiat Ulema-e-Islam's Malik Jamil Khan.
In Nowshera, a close fight is expected between PML-N's Ikhtiar Wali and PTI's Omar Kakakhel on PK-63.