Published On 13 February,2021 08:11 pm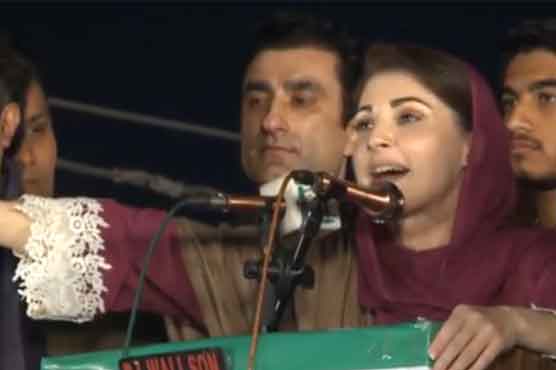 PDM's long march final chance to send Imran Khan home: Maryam Nawaz
DASKA (Dunya News) - PML-N Vice President Maryam Nawaz has said that PDM's long march is the nation's final chance to send Prime Minister Imran Khan home.
Addressing an election campaign rally in Daska, Maryam Nawaz said that PML-N would emerge victorious from the city on February 19. She said that it was no longer just an election, but a war, and that for the first time in history, Punjab had stood up for its rights.
She said that Khawaja Asif was punished because he was told to leave Nawaz Sharif but the senior leader said he would prefer death over leaving his leader's side. The entire Pakistan is saying that the government should have some shame.
The PML-N vice-president said that despite being innocent, Nawaz Sharif was thrown twice in jail. He worked hard day and night to build power plants for the country and did not bow down just for the sake of his people.
Maryam Nawaz criticized Prime Minister Imran Khan, saying that he made everything from bread, flour and sugar to electricity and gas expensive. On inflation, his ministers suggest the nation to reduce their spending while Imran Khan does not care if the people starve to death.
Earlier in the day, Maryam Nawaz said that Pakistan Democratic Movement (PDM) does not support secret voting in Senate elections and is in favor of election reforms; however, opposition will not cooperate with Imran Khan for any legislation.
Talking to media persons, Maryam Nawaz alleged that people who took bribes as well as people who made video belong to Pakistan Tehreek-e-Insaf (PTI) and leak of video was carefully timed.
She further claimed that efforts were made to split PML-N into fractions but ideology of Nawaz Sharif is very popular among masses.