Published On 10 February,2021 08:35 pm
Moving forward with newer models of education: the Pakistan Learning Festival
KARACHI (Web Desk) - The Children's Literature Festival (CLF) has now morphed into the Pakistan Learning Festival (PLF), and this is also a landmark year for it for more than this new avatar. It has been a decade since the first CLF took place in 2011, having had a remarkable nationwide footprint, as over 60 CLFs have already been held through the length and breadth of the country, and one digital festival last year, reaching over 1.5 million children and teachers.
Clearly, Covid-19 has changed the way that festivals are having to operate, but a virtual festival has the potential to fill the growing need in the children's community. However, despite all the daunting challenges, the riveting PLF held for three days on February 8, 9 and 10, was designed as a trailblazing hybrid. A multi-site, multi-lingual, and a truly multi-cultural festival, with art, music, dance, poetry, stories, theatre, science workshops, discussions and technology all coming together, giving agency to children suffering learning losses for a year now.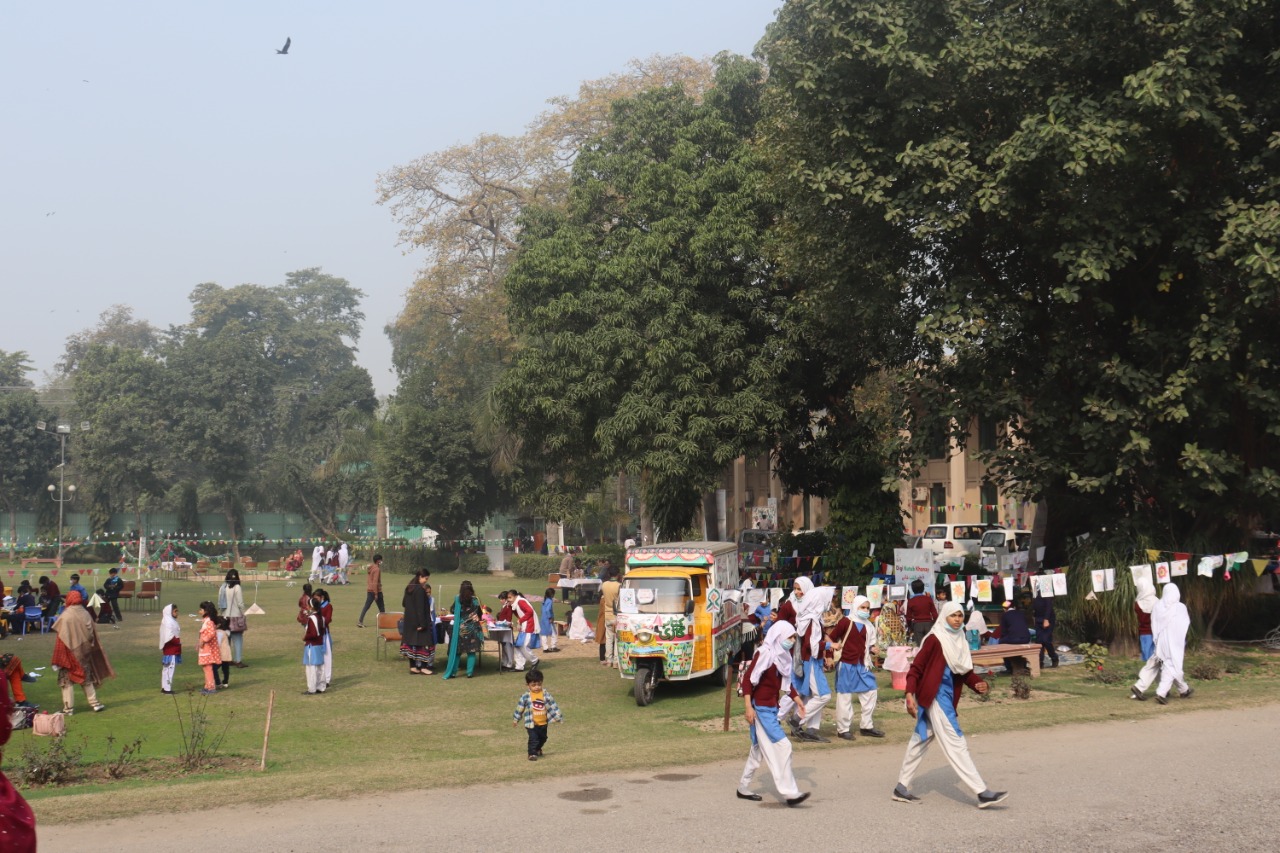 The PLF was held in collaboration with the British Council, Children Library Complex (CLC), Oxford University Press (OUP), Room to Read, National History Museum (NHM) and Citizens Archive of Pakistan (CAP).
It is not possible to do justice to every segment and everyone who was a part of this incredible learning festival, as there were hundreds of them, but it is important to mention that the PLF provided a nation-wide as well as a world-wide exposure to children who shared their particular individual talents with the rest of the children's community who were either there physically (and socially distanced), or were logged in through their computers or mobile phones, inspiring and motivating them all.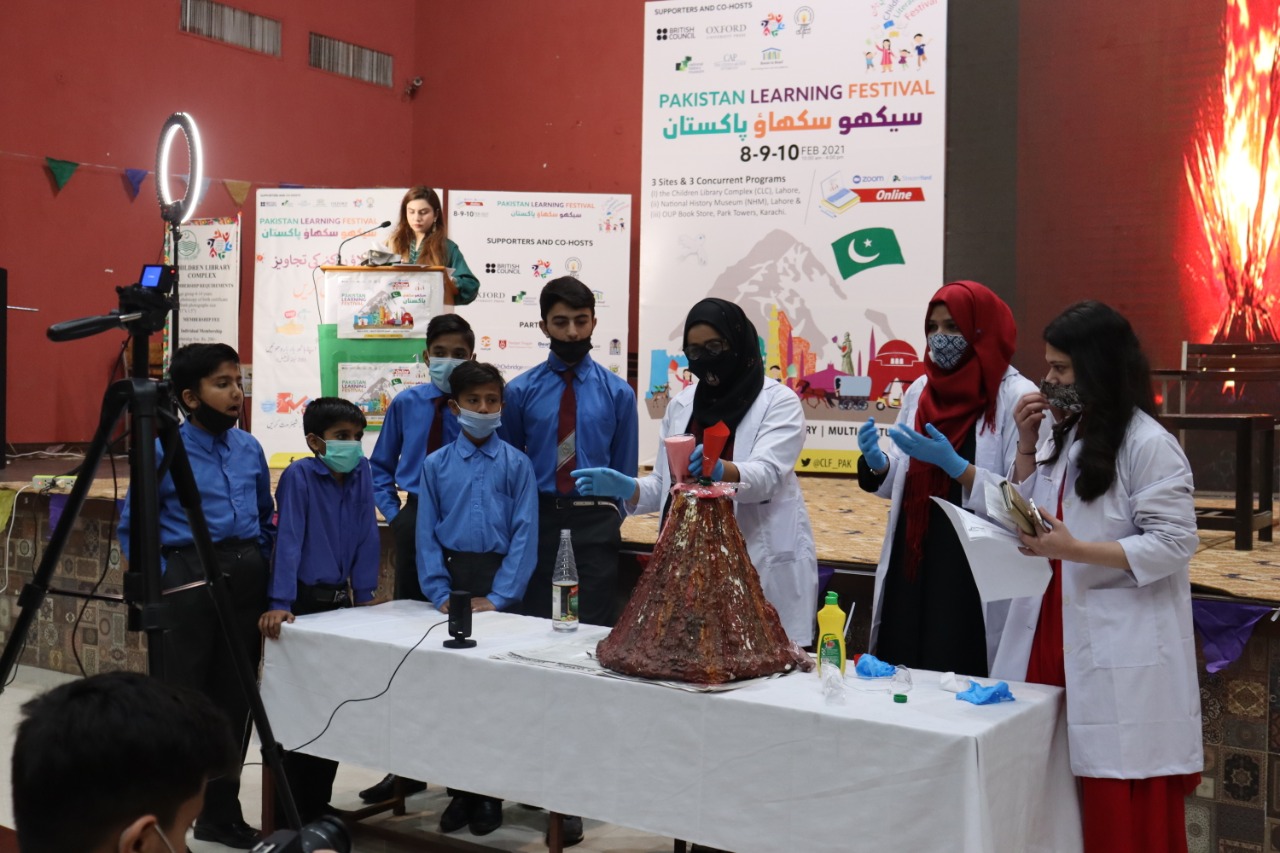 When Baela Raza Jamil, CEO Idara-e-Taleem-o-Aagahi and Founder CLF declared in the opening session of the PLF that 'Learning Never Stops', she was perhaps referring not only to the fact that despite the challenges of the pandemic ways and means have been found to ensure that our children continue to learn, wherever the resources such as the PLF are available, but also to encourage people to keep their curious spark alive, to turn mirrors into windows.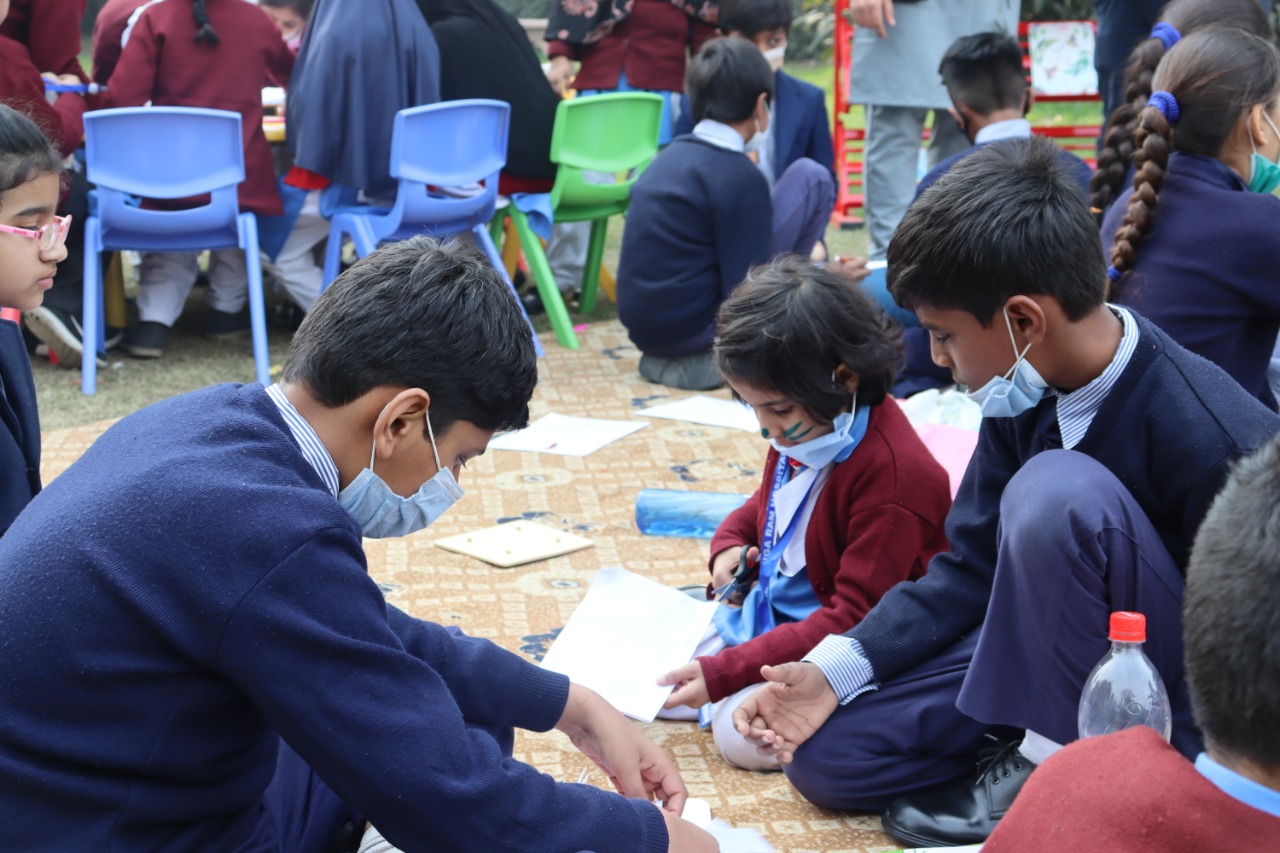 The PLF provided an opportunity to showcase the 'incredible libraries', which is another wonderful CLF-ITA initiative - after its Kitab Gari in the shape of rickshaws - the Digi Kutub Khanay, a library in a tin-trunk full of books and a pre-programmed tablet for children living in remote areas of Pakistan: coastal, mountain and desert regions. In fact a bus full of children from Mubarak Goth (a fishing village on the outskirts of Karachi) came to attend the PLF at the OUP bookshop at Park Towers, Karachi, to share their excitement and pleasure of being the recipients of the first Digi Kutub Khana, making it an oasis of learning for them in the wilderness where they live, devoid of storybooks. The Alif Laila Book Bus Society - ALBBS (with a library in a bus) has had its presence since 1978, and now the sisters Rahima and Zubaida Jalal partnered with ALBBS to run Camel Libraries in Mand, Balochistan. "Learning Boldly", remarked senior journalist Zubeida Mustafa in her message for these and other such ingenuities.
The soulful and trained voices of two young girls, Mahnoor Altaf and Hadiya Hashmi reached the hearts of all the listeners, as also the Kathak classical dance performance by students of Har Sukh School and Haal-e-Raqs. The incredible siblings Rahat and Intikhab Burdi from Larkana, who have memorized the entire 'Shah jo Risalo' – poetry of the great Sindhi Sufi, Shah Abdul Latif Bhittai, enthralled everyone with their recital. CLF Advisor Mahtab Akbar Rashdi in a session titled 'Classical Multilingual Poetry for Today and Tomorrow', also spoke on Shah Abdul Latif Bhittai, and Sarwat Mohiuddin and Ali Raza on our heritage of classical Punjabi poetry, and Abaseen Yousufzai on the great Pushto poet Rehman Baba's relevance for the present times. The multi-age and multi-lingual Mushaira: 'Lala-o-Gul' was the show-stopper of the event.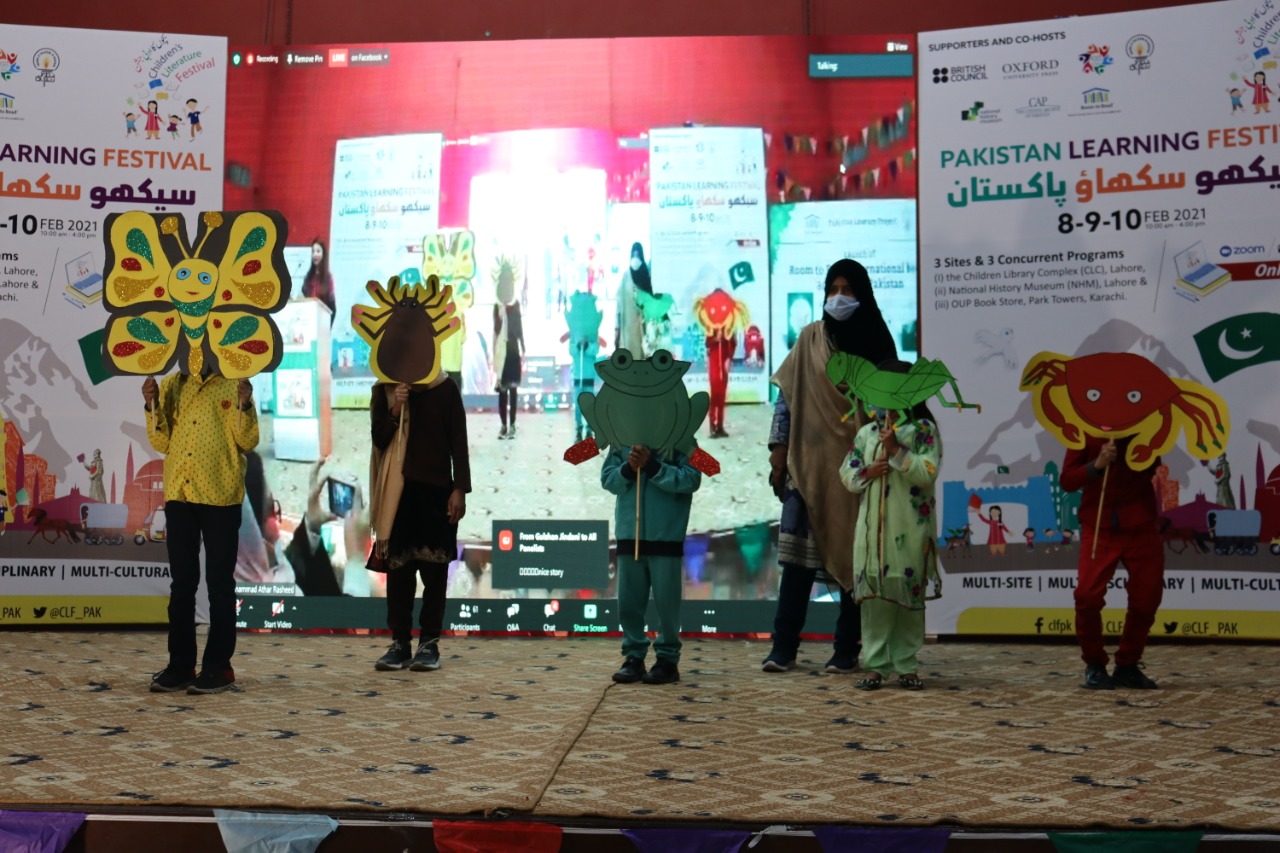 Art workshops were held by CLF Advisor Fauzia Minallah: 'Turning Trash into Art', 'Pebbles with a Purpose' by Ayesha Akbar, 'Art Therapy' by Sonal Dhanani, and not to forget Salma Habib's incredible Mindful Art with many more art and craft sessions as well. STEAM Activities based on children's storybooks was held by Karkhana, Nepal and LalahRukh Malik and Arooj Khalid of Science Fuse conducted a workshop: 'Kitchen ki Science'. A great virtual tour of the NHM located in Lahore was also made possible. Sadia Sarmad and Bi-Gul Hussain of Suno Kahani Meri Zabani narrated stories, so did Zara Mumtaz and others, and Dr Arfa Syeda Zehra spoke about her childhood years. Atif Badar enthralled children with theatre and 'dastan goi'. Virtual history tours were another major attraction of Walled City Lahore, National History Museum and the State Bank of Pakistan Museum.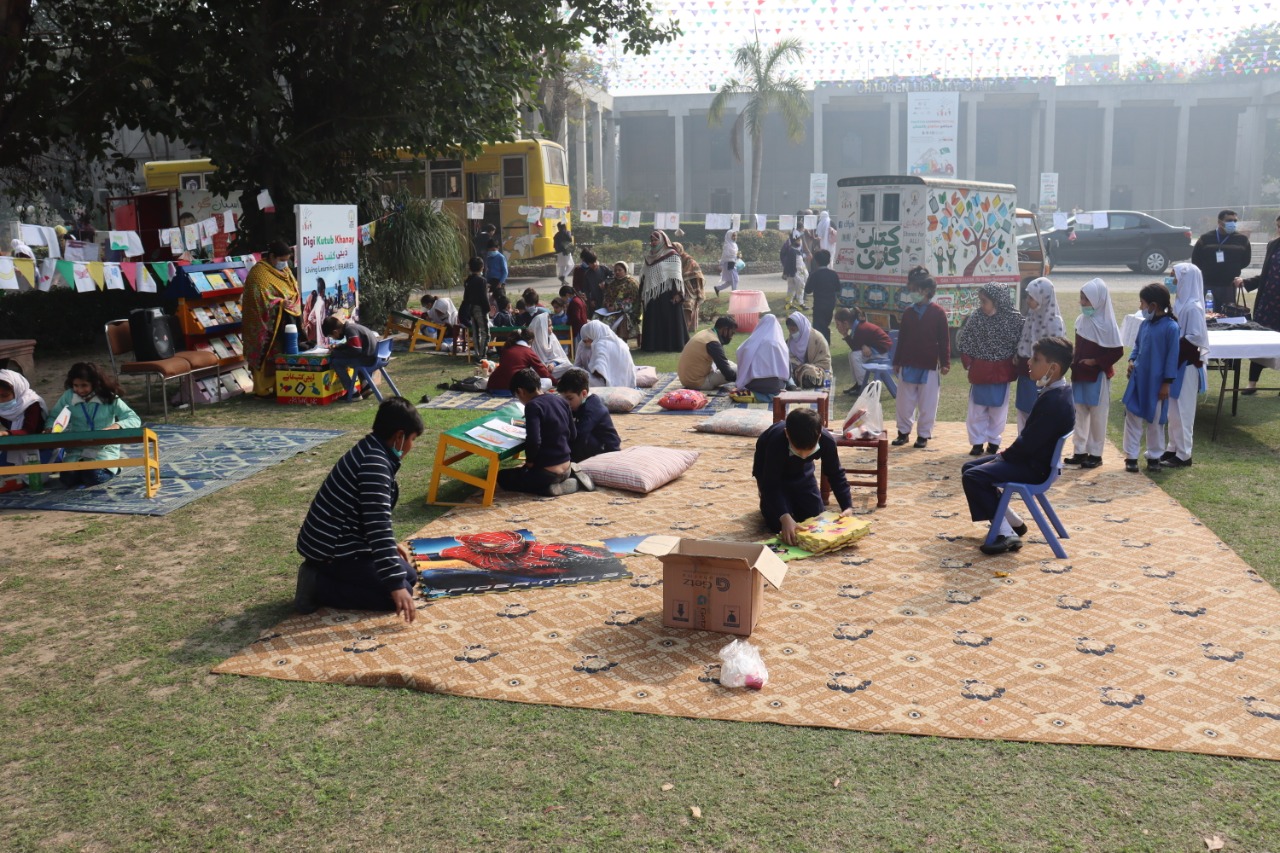 The British Council sessions were delightful with rich tips for teachers and students alike on the Joys of Reading by Fiona Robertson, Storytime, Learning in Safety by Samina Sardar.
Launching young authors is extremely exciting. At the PLF Zahra Bokhariya's
'Bokhariya and Knowledge in the Ocean', and 'Gifted Lies' by siblings Thaain, Hadi, Azaan and Shiza Zahid were launched, as also a curtain raiser was held for Aminah Alavi's book to be published by the CLF. However, new books launched for young readers is also very stimulating: Shadab Zeest Hashmi's book 'Comb: A Girlhood in the Shadow of the Legendary Khyber Pass' was launched by Baela Jamil and Raza Rumi, Nayanika Mahtani's 'Across the Line' (Partition narratives), Nusser Sayeed's 'Noori', Neda Mulji's 'Little Jimmy', and a very special book, Maria Riaz's 'Hamara Adabi Jashn' about the CLF itself!
Three books out of 28 selected books for young readers were launched under ITA's Pakistan Literacy Project (PLP), in partnership with Room to Read. These books, from different Asian countries have been translated into Urdu. The launches were facilitated by CLF Advisor and Team Lead Selection and Adaptation of Books, Rumana Husain, and Project Manager, Sonia Javaid, with read-alouds by children and teachers and also in sign-language by Deaf Reach who had earlier also opened the PLF in sign language for the national anthem, followed by the Sanjan Nagar School choir singing the iconic CLF song written by Zehra Nigah and composed by Rakae Jamil that calls out: 'Hamay Kitaab Chahyye, Jo Zindagi Badal Dey Who Nisaab Chahyye!'
Two important back to back panel discussions were held on the raging current topic of the 'Nisaab' – the Single National Curriculum (SNC). Both the discussions were watched with interest by many teachers and parents, who also sent in their comments to the panelists. The first, moderated by Baela Raza Jamil discussed 'Implementation Challenges' with panelists Arshad Saeed Hussain, MD OUP, Faisal Mushtaq (Roots School network), Rashid Jehangir and Erum Kashif, and the second discussion, moderated by Camilla Hadi Chaudhry discussed if there was space for 'the 4Cs: Creativity, Critical Thinking, Collaboration and Communication in the SNC'. The panelists were Ameena Saiyid Cofounder and Advisor CLF, Farid Panjwani AKUIED, Mariam Chughtai LUMS-SOE and Neha Raheel TCF. The panelists were urged by an educationist to consider adding a 5th 'C' for Compassion.
Girls Education Champions across Pakistan spoke with what works for Gender Equality boldly; they showcased with evidence that the floodgates cannot be shut anymore. Eminent voices from film making to STEM to financing, to Life Skills and academics to community action, joined the session, Samar Minallah Khan, Lalarukh Malik, Saba Saeed, Areeba Shahid, Saima Anwar, Shad Begum, Maham Ali, Fajer Rabia Pasha and Madiha Rehman fiercely argued for ALL GIRLS LEARNING NOW!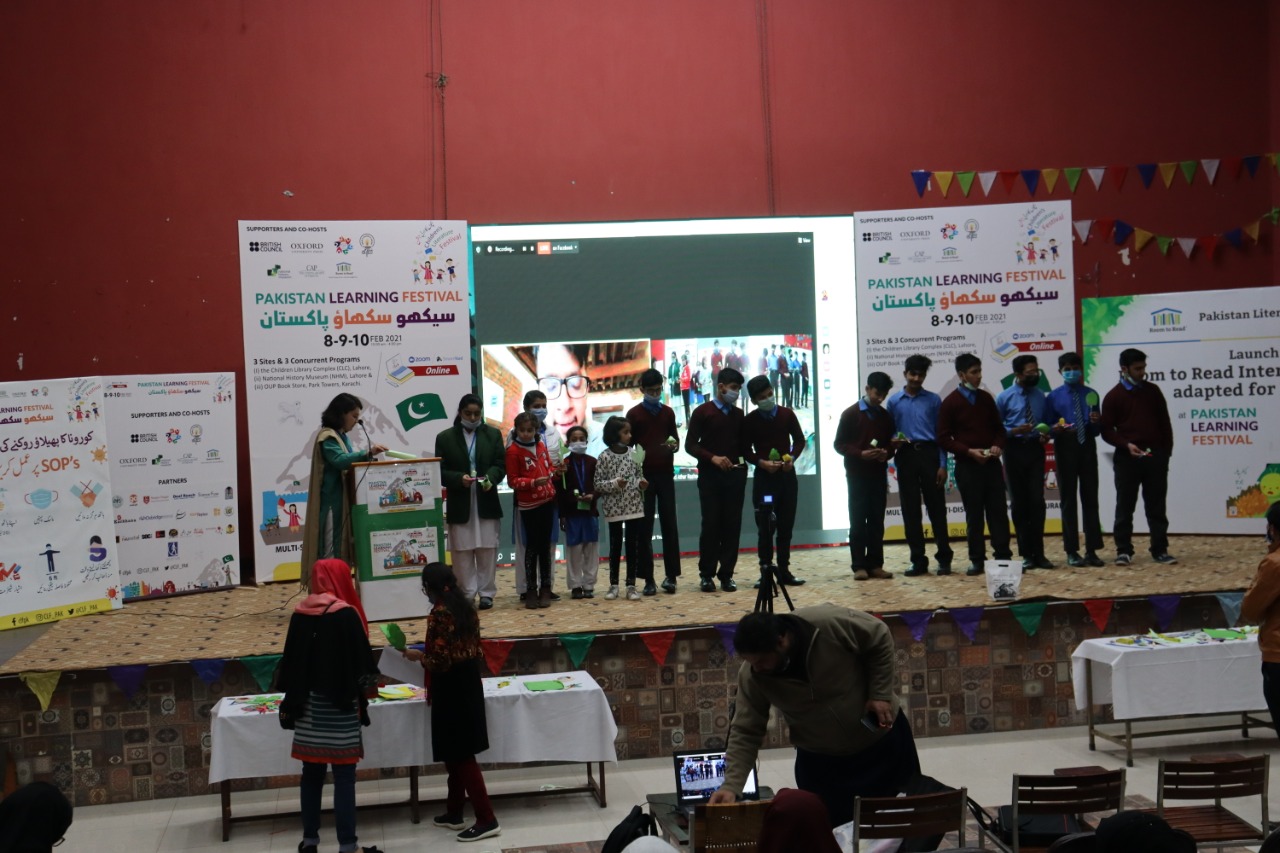 The hybrid PLF has a wider audience-reach across Pakistan and the diaspora, providing children as well as teachers and parents' great opportunities for learning and entertainment.