Published On 04 February,2021 10:18 pm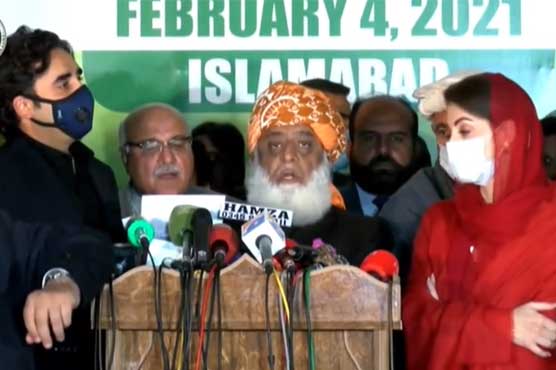 PDM would contest Senate elections jointly: Fazlur Rehman
ISLAMABAD (Dunya News) - The Pakistan Democratic Movement (PDM) has announced to hold 'Long March' on 26th March.
PDM chief Maulana Fazlur Rehman while talking to media along with PPP chairman Bilawal Bhutto Zardari and PML-N vice president Maryam Nawaz said that all parties participated in the PDM meeting.
He said that Pakistan Democratic Movement (PDM) has decided to hold a long march on March 26th. On March 26, caravans from all over the country will leave for Islamabad, he added.
Referring to the Senate elections, he said that the PDM would contest the Senate elections jointly rejecting government s proposed 26th constitutional amendment for elections.
He said that we believe in a comprehensive package of electoral reforms adding that PTI members themselves are not ready to vote in the Senate elections.
Referring to foreign funding case, he said that 23 accounts are hidden so far, Imran Khan cannot be declared honest and trustworthy, the Election Commission should decide foreign funding case at earliest. He said that Transparency International called Imran Khan corrupt adding that our goal is to get rid of this illegitimate government.
He said tomorrow the entire PDM would go to Muzaffarabad to observe Kashmir Solidarity Day alleging that the PTI government has sold Kashmir.
When asked about the opposition's resignations, Maryam Nawaz said, "be patient."
Earlier on Wednesday, JUI-F chief Maulana Fazlur Rehman and Pakistan Muslim League-Nawaz (PML-N) supremo Nawaz Sharif had a telephonic conversation to formulate a political strategy for the future.
The two opposition leaders discussed PDM's strategy going forward, with the PML-N leader agreeing with Fazlur Rehman's suggestions. According to sources, Nawaz Sharif extended full support to resignations, long march and sit-in.
On the other hand, Pakistan Muslim League-Nawaz (PML-N) vice-president Maryam Nawaz also called on head of PDM and JUI-F chief Maulana Fazlur Rehman at his residence in Islamabad on Wednesday night.
Senior PML-N leader Rana Sanaullah and party spokesperson Marriyum Aurangzeb also accompanied Maryam Nawaz during her visit to the residence of JUI-F chief.
According to sources, discussion was held to formulate future strategy of anti-government campaign during the meeting. They also discussed the agenda of PDM, as well as a message sent earlier today by the PML-N supremo Nawaz Sharif.