Published On 04 February,2021 03:46 pm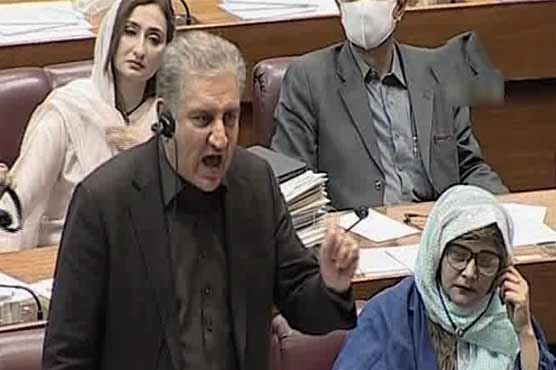 FM Qureshi said votes were sold in the last Senate elections as well.
ISLAMABAD (Dunya News) – Foreign Minister Shah Mahmood Qureshi Thursday said he does not want to reveal what happened overnight that the opposition retreated from tendering resignations.
The foreign minister addressed the National Assembly and said the opposition's conduct is violating the sanctity of the parliament, and those who came as a result of horse-trading cannot defend the federation and the constitution.
Shah Mahmood said, "These members will only plunder money. Votes were sold in the last Senate elections as well and Pakistan Tehreek-e-Insaf (PTI) had suspended membership of its twenty representatives.
"PTI was in minority when Pakistan Peoples Party (PPP) and Pakistan Muslim League-Nawaz (PML-N) had also conducted debate over the issue of open balloting. We want to change this outdated system and introduce a new one.
"The flag bearers of the Charter of Democracy will be exposed as their actions are contrary to their words. We do not have two-third majority and it is a test of the entire opposition at the moment. The opposition is once against supporting the corrupt elements and it will be written in history."