Published On 03 February,2021 05:15 pm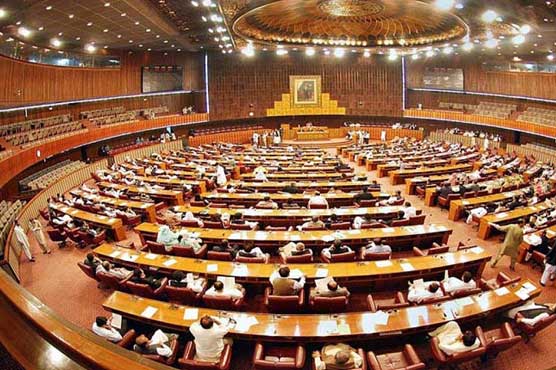 Govt tables bill in NA to change Senate elections procedure
ISLAMABAD (Dunya News) - An amendment bill, aimed at changing the procedure of Senate elections, has been tabled in the National Assembly. The opposition protested against the bill and tore up copies of the agenda.
The opposition also accused Speaker National Assembly Asad Qaiser of bias and said that the opposition has been cast aside in parliamentary proceedings for the past two years. Members said the House belongs to the Islamic Republic of Pakistan, not PTI.
Federal Law Minister Barrister Farogh Naseem introduced the bill for 26th amendment in the constitution during Wednesday's session. "This amendment is being introduced to allow Senate elections through open ballots and to allow dual nationals to run in the elections", he said.
The Law Minister requested the opposition members to go through the constitution as there was nothing unconstitutional about amending it.
On the occasion, copies of the agenda were torn up by the opposition members. PML-N leader Ahsan Iqbal said that the government was targeting members of the opposition. "Our mics get turned off, every elected Member of Parliament has the right to speak", he added.
Ahsan Iqbal said the Speaker is not supposed to side with any party, he is the Speaker of the whole house. "We do not like to protest in the House, we want proceedings to be constitutional", he said.
"We have strong reservations about this," he said, referring to the proposed 26th amendment.
The former Interior Minister said the opposition is integral to the process of democracy and that running any government requires patience and tolerance.