Published On 31 January,2021 10:33 pm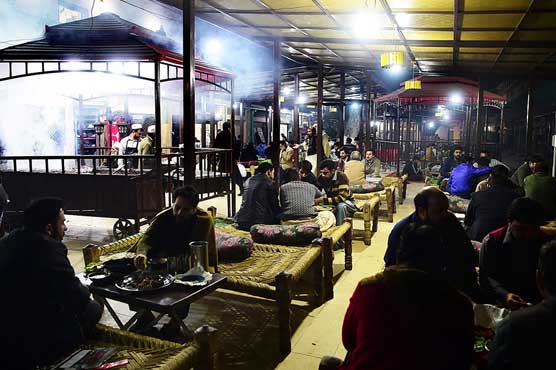 Punjab govt lifts ban to close restaurants, food points at 10 pm
LAHORE (Dunya News) - The Punjab government has decided to lift the ban imposed on the food points and restaurants to close at 10pm after improvement in the coronavirus situation.
In this regard, Secretary Primary and Secondary Health Care Captain (Retd) Muhammad Usman has issued a notification stating that 50% employees of all government and private institutions will work from home.
Restaurants, hotels and all kinds of food points will be able to arrange food and drinks only in open spaces. Meal seating can be arranged outside in the open area while maintaining social distance according to the coronavirus SOPs.
All parks and recreational areas will be closed at 6 p.m. Arrangements for weddings and other celebrations can also be made only in open spaces. Any event can be arranged for up to 300 people in open spaces following SOPs, said notification.
According to the notification, any kind of crowded event inside the halls will be completely banned. Strict legal action will be taken against institutions and food points violating the guidelines. Indoor eating has been banned at food points to prevent spread of coronavirus.
Capt (retd) Muhammad Usman in his statement said that people are requested to wear masks, wash their hands frequently and maintain social distance.