Fazlur Rehman announces to continue protest movement till govt's resignation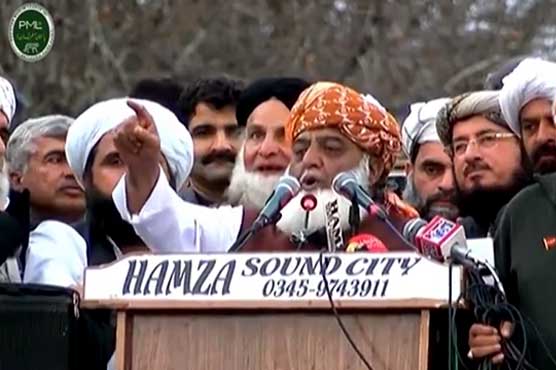 Political leadership united for bright future of Pakistan: Fazlur Rehman
ISLAMABAD (Dunya News) - Pakistan Democratic Movement (PDM) Chief Maulana Fazlur Rehman has declared PTI government illegitimate and announced to continue the movement till its end.
Addressing a PDM rally outside the Election Commission (ECP), he said, "We have tied turbans to raise our heads." If there is no respect, then these turbans should be taken off. The movement against the rulers is jihad in terms of Shariah, we will not back down from it, we have to stay in the circle and stay in the field of jihad against thief rulers , he added.
Fazlur Rehman said that we have to struggle to get nation out of this predicament. Today, the political leadership is united for bright future of Pakistan. We will pursue them, bring warmth to the movement. We have learned to walk with our heads high, not bowed.
He said that these rulers are ugly stains on the forehead of Pakistan, even if we have to wash these stains with blood, we will wash them. If anyone is a coward, get out of our ranks and go to your homes with your wives.
The PDM chief, despite warnings from Interior Minister Sheikh Rashid, announced that madrassa students would be brought to the rallies, saying that religious madrassas want to learn positive politics. If religious schools do not go to rallies, then shall they raise guns. Madrassa students and teachers have responded to our call, he added.
He said that he staged a historic demonstration on Shahra-e-Dastoor today and would show solidarity with Kashmiris on February 5.