Published On 16 January,2021 01:42 pm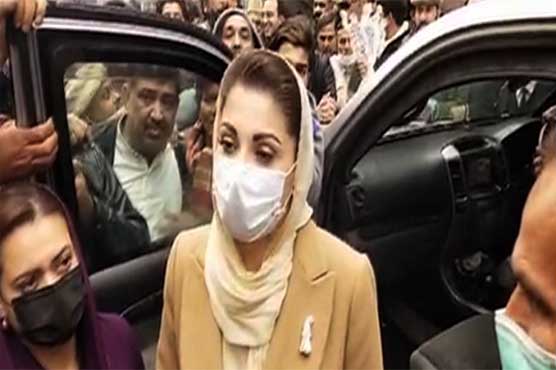 Prime Minister Imran Khan is afraid of Shehbaz Sharif: Maryam Nawaz
LAHORE (Dunya News) – Pakistan Muslim League-Nawaz (PML-N) vice president Maryam Nawaz has said that political opponents wanted to trap Nawaz Sharif but the Broadsheet issue backfired on the Pakistan Tehreek-e-Insaf government.
Maryam Nawaz, while talking to media persons after meeting PML-N President in courtroom, said that Prime Minister Imran Khan is afraid of the opposition leader.
She also said that Shehbaz Sharif and Hamza Shehbaz will soon be freed and government is in panic because Pakistan Democratic Movement (PDM) is voice of the nation.
She said that government's incompetence and corruption have been exposed by demanding commission from Broadsheet. Political opponents wasted national resources and got nothing in return, she added.
Earlier, Maryam Nawaz met Leader of the Opposition in the National Assembly and party president Shehbaz Sharif in a Lahore's accountability court.
Maryam Nawaz apprised Shehbaz Sharif of Pakistan Democratic Movement's (PDM) decisions. In an informal conversation in courtroom, she said revenge is being taken in the name of accountability.
Maryam Nawaz said, "PML-N leadership will definitely come clean from these cases one day. The incumbent government's dishonesty has been revealed by the Broadsheet case.
"The city of Lahore has been turned into a pile of garbage by the Punjab government. We will win by-elections and stage protest outside the Election Commission of Pakistan (ECP) on January 19."
On the other hand, PML-N workers clashed with police outside the court as they tried to enter the building. The issue was settled after PML-N's Khawaja Imran Nazir intervened.