Khawaja Asif to be produced before NAB court in Lahore today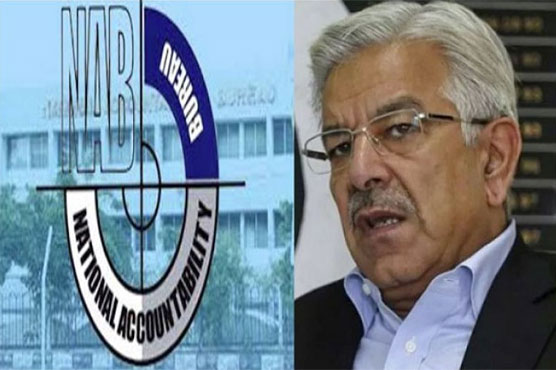 NAB had detained Khawaja Asif in case pertaining to assets beyond income on Tuesday.
LAHORE (Dunya News) – Pakistan Muslim League-Nawaz (PML-N) senior leader Khawaja Asif will be produced before National Accountability Bureau (NAB) court in Lahore today (Thursday) in assets beyond known sources of income case, Dunya News reported.
Earlier on Wednesday, National Accountability Bureau (NAB) presented PML-N leader before Accountability Court (AC) in assets beyond means case and sought one-day transit remand. The court while granting the remand directed officials to shift Khawaja Asif to Lahore.
Speaking to the media outside the court premises, Khawaja Asif has said that attempts are being made to break up the party and weaken former prime minister Nawaz Sharif from last 2.5 years.
Khawaja Asif said that he has not been handed over charge sheet or the grounds on which his arrest was made.
It is pertinent to mention here that NAB on Tuesday detained former federal minister Khawaja Asif in case pertaining to assets beyond income.
He was arrested when he was on his way back after attending consultative meeting of the party held to discuss whether the PML-N would take part in senate elections.
According to the anti-graft agency, Khawaja Asif failed to give a satisfactory response on his possession of assets amounting to Rs260 million.
According to the NAB spokesperson, Asif held an iqama from 2004 to 2008, adding that he earned a total of Rs136 million for his services as a consultant legal adviser.
PML-N Vice President Maryam Nawaz Sharif reacted strongly to NAB's arrest of senior party leader and said that he must be released, otherwise the situation may deteriorate.
Addressing an emergency press conference in Lahore, she said that Khawaja Asif's arrest is an attempt to intimidate us. She warned that there would be a strong reaction against the arrest at PDM's meeting tomorrow.
Maryam Nawaz said that such decisions are being taken out of fear of defeat by the government. Slamming NAB, she said that it does not see flour, sugar and LNG thieves, neither does it see the corruption in Billion Tree Tsunami project and drugs scandal. Chairman NAB has no right to go about openly terrorizing the opposition, she added.
On the other hand Barrister Mirza Shahzad Akbar Adviser to the Prime Minister on Accountability and Interior while talking about the arrest, said that a case of assets beyond means had been registered against Khawaja Asif and He failed to give proof of his income abroad in the case.
Shahzad Akbar said this while talking to Dunya News program "Dunya Kamran Khan Kay Sath". He said that Khawaja Asif used to take salary from a Dubai-based company which he could not prove. If the income is legitimate, then there must be proof.
Reacting to the PML-N vice president s statement, he said that Maryam Nawaz herself was convicted. Her statement that Khawaja Asif was abducted is ridiculous and does not matter.