Published On 28 December,2020 05:18 am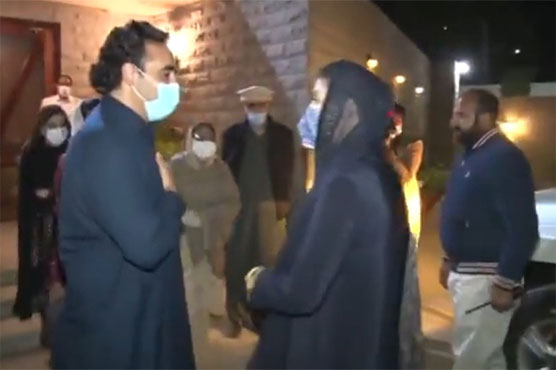 Maryam Nawaz, Mehmood Khan Achakzai, Sardar Akhtar Mengal and otherPDM leaders attended the dinner.
GARHI KHUDA BUX (Dunya News) – Pakistan People's Party (PPP) chairman Bilawal Bhutto Zardari hosted dinner for Pakistan Democratic Movement (PDM) leaders at Naudero House in Garhi Khuda Bux on Sunday, Dunya News reported.
Pakistan Muslim League-Nawaz (PML-N) vice president Maryam Nawaz, Pashtunkhwa Milli Awami Party (PkMAP) chief Mehmood Khan Achakzai, Balochistan National Party-Mengal (BNP-M) president Sardar Akhtar Mengal were among the PDM leaders who attended the dinner.
Earlier in the day, Pakistan People's Party (PPP) arranged a rally in connection with the 13th death anniversary of former Prime Minister Shaheed Benazir Bhutto at Garhi Khuda Bakhsh. Bilawal Bhutto Zardari had invited the PDM leaders to attend the rally.
Pakistan Democratic Movement (PDM) leaders including Maryam Nawaz, Abdul Ghafoor Haideri, Mehmood Khan Achakzai and Bilawal Bhutto addressed the gathering.
Asif Zardari asks PM Imran to announce re-elections
Former President Asif Ali Zardari has said that Imran Khan has destabilized the country s economy. He asked Prime Minister Imran Khan to have mercy on the country, leave the government and call for re-election.
Addressing via video link in Garhi Khuda Bakhsh, Asif Zardari said that the PTI cannot run the country, these are the people who run the cricket team. They do not have the thinking to run the country and will fall on their own.
He said that Bibi had taught me and the children, we will take account of everything but with democracy. Even today, I try to bring all political parties on one page.
"Don t tell each other, learn something from us," he said. Musharraf was ousted like a bee when he was president, Imran Khan is nothing. We have to change our methods, we have to fill the jails. This government will not last, then the government of the poor will come in power.
Asif Zardari said that the name of PPP is everywhere in the country. Everyone is hopeful that only Bhutto's party will bring prosperity to their lives once in the power. In the PPP era, everything was cheap.
The former president said that Benazir Bhutto continued to fight for democracy without caring for children. That is why Bilawal said that democracy is the best revenge. Musharraf is suffering today but he cannot come to Pakistan. Referring to the PTI he said that you have no status, your party will end like Musharraf.
Addressing Prime Minister Imran Khan, he said, "Have mercy on Pakistan, leave the government, hold re-election." Let s hold re-election and see who the people are with. The PDM is the true representative of the people, he added.
PM Imran came to power by stealing vote: Maryam Nawaz
Pakistan Muslim League-Nawaz (PML-N) vice president Maryam Nawaz on Sunday said that those who couldn't come to power for 22 years had been imposed on the nation by stealing the votes.
Addressing a rally on the occasion of the death anniversary of former prime minister Benazir Bhutto in Garhi Khuda Baksh on Sunday, she thanked Pakistan Peoples' Party (PPP) chairman Bilawal Bhutto Zardari for their warmth and hospitality since her arrival in the city.
Launching a tirade against Prime Minister Imran Khan, she said that those could not come to power even after 22 years were brought to power by stealing votes but they admitted he was not prepared for the challenges when he assumed office, adding that the country cannot be run like this.
The PML-N vice president said that PM Imran has said that "he did not know" of the energy problems in the country, of the circular debts, of the current account deficit, or running the country.
Maryam Nawaz went on to say that the daughters and sister-in-laws of politicians are being dragged to the courts, adding that the politicians have been subjected to character assassination.
"The government declared former prime minister and PML-N supremo Nawaz Sharif fugitive but is unable to say a single word regarding bringing back former president General (r) Pervez Musharraf," she added.
The former first daughter said that PM Imran is begging for NRO from PDM and sending his emissaries to strike a deal with the opposition parties.
"PM Imran said that the opposition was defaming the army," she said and added he is the one who criticised the state institutions while he was in India.
Revisiting the political relationship of former prime minister Nawaz Sharif and Benazir Bhutto, Maryam Nawaz said both suffered at the hands of anti-democratic forces, adding that she can laid her life for the ideology of her father.
"When the PPP came into power in 2008, many wanted PML-N to topple the government. But Nawaz Sharif was strongly against it and said political parties do not conspire against or for anyone to form governments, but the public is responsible for electing a party into power," she added.
Bilawal threatens with long march if PM does not resign before January 31
Pakistan People's Party (PPP) Chairman Bilawal Bhutto Zardari gave an ultimatum to Prime Minister Imran Khan to resign by January 31, or there will be a long march towards Islamabad.
Addressing a public gathering on the occasion of his mother s death anniversary at Garhi Khuda Bakhsh, he said that if Bibi would have been alive today these puppets would not be able to compete.
He said that the rulers did not spare even the poor, traders, laborers, farmers, doctors and teachers but now the people will not spare this selected one. Bilawal Bhutto said that people suffering from inflation and poverty will not leave the puppet.
Bilawal Bhutto said that how can I believe that there is democracy in the country. If someone holds a rally, there are arrests. We have fought against the dictators for the democracy, who is this puppet.
The PPP chairman said that the people would no longer tolerate this selected and incompetent person. If the government is given more time, the country will be drowned. He who clashes with the power of the people is shattered. The time for flour, sugar, electricity and gas thieves is over, he added.
He said that record loans have been taken in the last two-and-a-half year. Imran Khan will have to answer where that money is. Loans did not benefit the people. Electricity, gas, medicine and groceries are expensive. People are forced to commit suicide but the incompetent does not care, only elected rulers care about the people.