Published On 25 December,2020 11:34 pm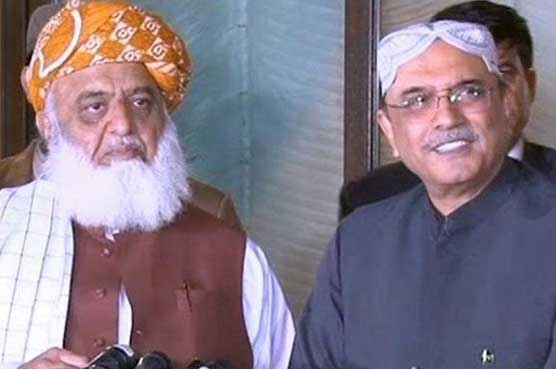 Fazlur Rehman declines invitation to attend rally on Benazir Bhutto's death anniversary
LARKANA (Dunya News) - Despite PPP Co-Chairman and former President Asif Ali Zardari's call to PDM head Maulana Fazlur Rehman, inviting him to attend the rally on Benazir Bhutto's death anniversary, the JUI-F leader has declined the invitation.
Chairman Pakistan People's Party (PPP) Bilawal Bhutto Zardari has reached Naudero House to attend the death anniversary of Benazir Bhutto. The Chairman will stay at Naudero for three days and will address a rally in Garhi Khuda Bakhsh on December 27.
According to sources, a five-member JUI-F delegation will attend the rally in place of Maulana Fazlur Rehman.
It has been informed by Jamiat Ulema-e-Islam that the said delegation will participate in the rally as per the order given by PDM.
Sources also said that Maryam Nawaz will hold a meeting with Bilawal at Naudero House and also attend the December 27 rally at Bilawal's invitation.