Newly elected members of Gilgit-Baltistan Assembly take oath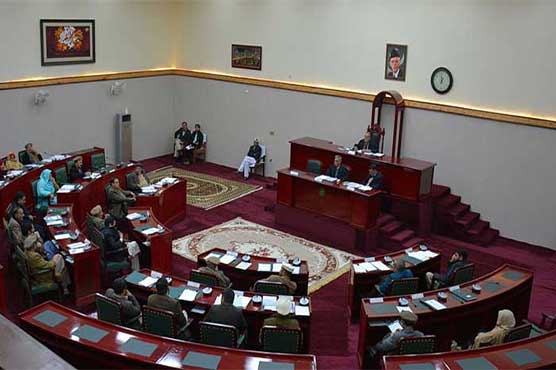 Newly elected members of Gilgit-Baltistan Assembly take oath
GILGIT (Dunya News) - Newly elected members of Gilgit-Baltistan Assembly have taken oath of the office in the maiden session of newly elected Gilgit-Baltistan Assembly held today (Wednesday).
According to details, the PTI tops the list with 16 general and 6 reserved seats. 32 out of 33 members of the Gilgit-Baltistan Assembly took oath. Pakistan Peoples Party (PPP) President Amjad Hussain has won two seats.
The PPP has won 5 seats, including reserved seats. The PML-N has won three seats, including a reserved seat for women.
The Gilgit-Baltistan election was held on November 15 this month while the election for one seat was held on November 22.
Pakistan Tehreek-e-Insaf (PTI) candidates have won majority of the seats in the election.
Other parties, including the Pakistan People s Party and the PML-N, have accused rigging in the election and refused to accept the results.
Opposition parties have accused of nexus between Chief Election Commissioner of Gilgit-Baltistan and the PTI government.
Replying to the allegation of rigging, the Chief Election Commissioner said that if the opposition parties have any evidence, it should be brought to light.