GB Election Results: Party position in Gilgit-Baltistan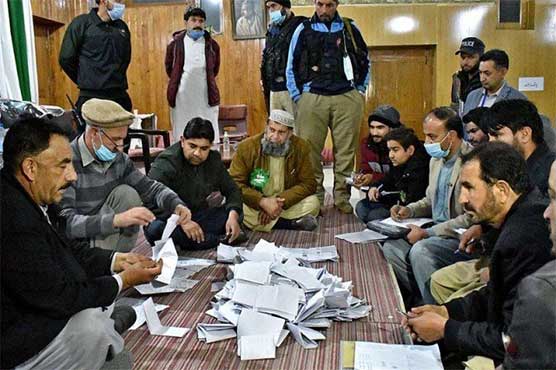 PTI has won 9 seats out 23 contested seats
GILGIT (Dunya News) - As unofficial results of the Gilgit-Baltistan elections were being released, out of 23 constituencies, the PTI was leading with nine seats followed by independent candidates who have so far won seven seats.
Below are the details of party position in Gilgit-Baltistan Legislative Assembly.
---
PTI (9)
---
PTI has won 9 seats out 23 contested seats. Abaidullah Baig won in the GBA-6 with 5622 votes; Raja Muhammad Zakeria Khan won in the GB-7 with 5260; Syed Amjad Ali won in the GB-11 with 5872 votes; Raja Azam Khan won in the GB-12 with 10283 votes.
Khalid Khursheed won in the GB-13 with 4836 votes; Shamsul Haq Lone won in the GB-14 with 5,418 votes; Haider Khan won in GB-17 with 5389 votes; Haji Gulbar Khan won in GB-18 with 6793 votes and Nazir Ahmed won GB-20 with 5430 votes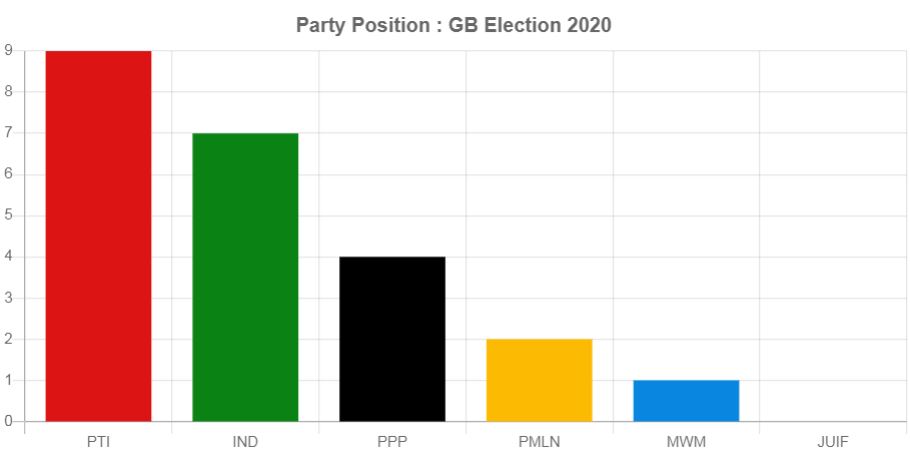 ---
Independents -7

---
After PTI, independents were ahead with unofficial victories in six constituencies.
Haji Shah Baig won the GB-15 constituency with 2685 votes; Javed Ali Manwa won with 2,443 votes in the GB-5; Mushtaq Hussain won with 6,051 votes in the GB-22; Nawaz Khan Naji won in the GB-19 with 6,448 votes.
Abdul Hameed Khan won in the GB-23 with 3,696 votes; Nasir Ali Khan won in the GB-10 with 4667 votes; and Wazir Muhammad Saleem won GB-9 with 6,286 votes.
---
PPP (4)

---
The independents were followed by PPP, which was in the lead in four constituencies. As per unofficial results, Jamil Ahmed won GB-2 with 8817 votes; Muhammad Ismail won in the GB-24 with 6,204 votes; and Amjad Hussain in both the GB-I, with 11,178 votes and GB-4 with 11,178 votes.
---
PML-N (2)

---
The PML-N has won two constituencies. Ghulam Muhammad bagged 4609 votes to win GB-21 while Muhammad Anwar received 5605 votes to win GB-16.
---
Others (1)

---
Unofficial results also showed Majlis Wahdat-e-Muslimeen candidate having won the GB-8, with 7,842 votes.
---
DISTRICT WISE PARTY POSITION - 2020
---