Published On 19 October,2020 10:37 am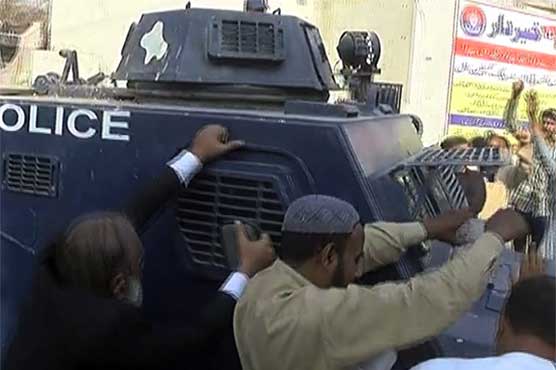 Police raided a private hotel in Karachi early morning to arrest Captain Safdar.
KARACHI (Dunya News) – Police have on Monday produced Captain (retd) Muhammad Safdar before Karachi's city court after he was arrested for violating the sanctity of the Quaid's mausoleum.
Police raided a private hotel in Karachi early morning and detained Captain Safdar. He was produced before the court in an armored vehicle.
Pakistan Muslim League-Nawaz (PML-N) vice-president and wife of Muhammad Safdar, Maryman Nawaz took to Twitter and said, "Police broke my room door at the hotel I was staying at in Karachi and arrested Capt. Safdar."
---
Police broke my room door at the hotel I was staying at in Karachi and arrested Capt. Safdar.

— Maryam Nawaz Sharif (@MaryamNSharif) October 19, 2020
---
"I was in the room, sleeping, when they barged in," Maryam Nawaz said.
Let it be known that Pakistan Tehreek-e-Insaf (PTI) leaders had filed a complaint against Maryam Nawaz and Captain (retd) Safdar among 200 PML-N workers at the Brigade Police Station in Karachi for chanting slogans at the Mazar-e-Quaid.
According to the FIR, the case had been registered on Section 6 (convening of meetings or processions at the mausoleum), Section 8 (entry into mausoleum with weapon) and Section 10 (penalty for contravention of provisions) of The Quaid-i-Azam's Mazar (Protection and Maintenance) Ordinance, 1971.
It is pertinent here to mention that PML-N leaders had paid a visit to the Mazar-e-Quaid before the Pakistan Democratic Movement's (PDM) rally in Karachi on Sunday and chanted political slogans at the mausoleum.
---
Sindh govt's reaction
---
Sindh government has strongly condemned the arrest of Captain Safdar by its own police. Provincial Information Minister Nasir Shah said that government has taken strict notice of the arrest of the PML-N leader and ordered a high level inquiry of the incident.
Nasir Shah, while blaming federal government for the arrest, said that officials of any level of the Sindh government were not informed about the arrest. He further said that PTI leaders gave separate applications for registration of case against PML-N leaders; however both applications were declared illegal.
Saeed Ghani, in a tweet, said that actions of Captain (retd) Safdar at Quaid's mausoleum were inappropriate; however, the arrest of the PML-N leader was not ordered by the government of Sindh. He further said that this action of police is an attempt to create division in parties of the PDM but this conspiracy will be foiled.
---
Federal ministers slam PML-N
---
Government ministers slammed PML-N leaders for chanting "Vote ko izzat do" slogan at the tomb of founder of Pakistan, Quaid-i-Azam Muhammad Ali Jinnah.
Federal Minister for Science and Technology Fawad Chaudhry said that these people have no capability, adding that the mental backwardness of these people has come to the fore. He said Captain Safdar's brain is like that of a small child and demanded apology from PML-N.
Federal Minister for Information and Broadcasting Sanator Shibli Faraz strongly condemned the move and said that using the tomb of the father of the nation for politics was reprehensible and shameful. "They should have instead apologized to the founder of Pakistan for ruthlessly looting to country," he added.
Special Assistant to Prime Minister on Political Communication Dr. Shahbaz Gill criticized Maryam Nawaz over the violation of the sanctity of the mausoleum.
Minister for Maritime Affairs Ali Haider Zaidi said the behavior is just not acceptable. "The sanctity of Quaid's Mazar [has been] disrespected by these criminals masquerading as politicians," he said.
Minister for Planning, Development and Special Initiatives Asad Umar while demanding an apology from the party said that these "shameless people are ignorant of their history, and have no sense of regard and respect for such a place. They only have respect for Nawaz. They don t know how to respect anyone else."
Adviser to Prime Minister on Parliamentary Affairs Dr Babar Awan said that 'absconder family' has violated the sanctity of the mausoleum.