Pakistan urges world to push India to grant Kashmiris right to self-determination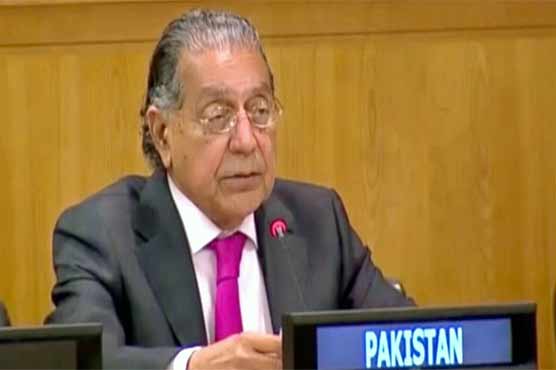 Pakistan urges world to push India to grant Kashmiris right to self-determination
NEW YORK (Dunya News) - At the United Nation, Pakistan has urged world community to push India to grant Kashmiris right to self-determination.
Speaking in a general debate, Permanent Representative of Pakistan to the United Nations Munir Akram underscored that the right of people to self-determination is the bedrock of international relations.
He said the international community has continued to reaffirm the principle of self-determination, but the free exercise of this right has been denied, so far, in certain cases, such as in Jammu and Kashmir and Palestine.
Ambassador Munir Akram said Prime Minister Imran Khan has called on the General Assembly to declare an "International Day to Combat Islamophobia". He said Pakistan looks forward to the support of all member states for this proposal.