Published On 30 September,2020 07:57 pm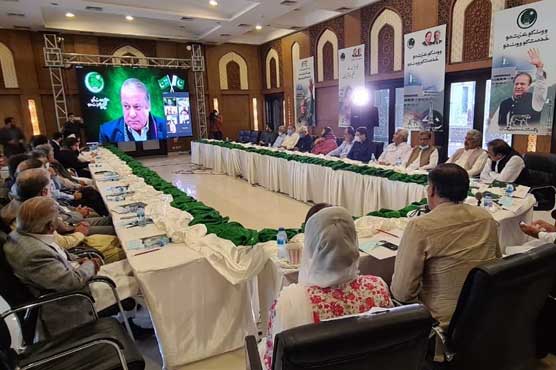 Nawaz Sharif has directed the party leadership to play an aggressive role in the PDM.
LAHORE (Dunya News) – Pakistan Muslim League-Nawaz (PML-N) on Wednesday decided that the party would protest and react strongly to the arrest of any of its members in the future.
According to the inside story of PML-N's Central Executive Committee (CEC) meeting, former prime minister and party supremo Nawaz Sharif has directed the party leadership to play an aggressive role in the Pakistan Democratic Movement (PDM).
The meeting was attended by party vice president Maryam Nawaz, Ahsan Iqbal, Raja Zafarul Haq, Shahid Khaqan Abbasi, Rana Sanaullah and others.
Sources said that the PML-N supremo also apprised the party leaders about his health condition.
Sources further said that the party leaders barred the former PM from coming to Pakistan without treatment while the members once again expressed confidence in the leadership.
"Nawaz Sharif has sought suggestions from party leaders for the anti-government movement," sources said and added the meeting also decided to react strongly and protest against the arrest of any individual.
Sharif while directing the party leaders to play an aggressive role in the Pakistan Democratic Movement (PDM) said that the PML-N should play an effective role against the government from the platform.
I will personally contact the PDM leadership including Jamiat Ulema-e-Islam-Fazl (JUI-F) chief Moulana Fazlur Rehman.
Addressing the meeting, Nawaz Sharif expressed his sadness over the arrest of party president Shehbaz Sharif, who, he said, remained committed to the party s narrative. The party would continue its struggle despite difficulties, he said.
Nawaz Sharif claimed that during the PML-N governments, huge successes were achieved and many development projects were completed. The PML-N government carried out development throughout the country, including Balochistan, he added.
Speaking after the meeting, Maryam Nawaz said that the vote is cast in someone else s name and it comes out in someone else s name. She said that the puppet system in the country gives birth to more puppets. "I strongly condemn the arrest of PML-N president Shehbaz Sharif."
She said that despite political and personal difficulties, Shehbaz Sharif conveyed the message that our leader is Nawaz Sharif. "I believe Nawaz Sharif s speech has strengthened the position of the judiciary, media, PML-N and the people," she said.
Former prime minister and party leader Shahid Khaqan Abbasi said that the arrest of Shahbaz Sharif is proof of the weakness and cowardice of the government.
"We will rid the people from the selected and undemocratic government," he said and added a meeting of party's Central Working Committee (CWC) will be held tomorrow.
Abbasi said all the decisions taken by the opposition would be implemented using the Pakistan Democratic Movement (PDM) platform.
The first public gathering would be held in Quetta while rallies and long march would also be conducted, he added.