Opposition's anti-government movement to begin in Quetta from October 11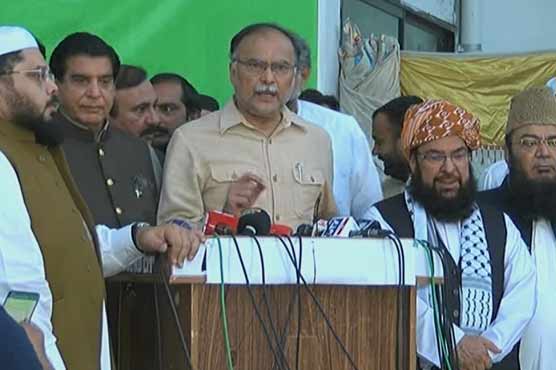 Opposition's anti-government movement to begin in Quetta from October 11
ISLAMABAD (Dunya News) – The Opposition's Pakistan Democratic Movement (PDM) announced on Tuesday the launch of an anti-government movement from October 11, with its first rally being held in Quetta.
After the PDM meeting, tomorrow's meeting of the PML-N Central Executive Committee (CEC) has gained importance as party workers are awaiting Nawaz Sharif's speech outlining their strategy going forward.
This will be the first meeting of PML-N Central Executive Committee after the arrest of President Shehbaz Sharif with various important decisions expected to be made in the meeting.
On the other hand, in today's meeting of Pakistan Democratic Moment, the opposition parties formed a steering committee to formulate the strategy of the protest movement. PML-N's Ahsan Iqbal will head the steering committee while all other parties have also submitted names of their representatives. According to sources, the opposition has decided not to consult with anyone other than the PM on Gilgit-Baltistan legislation.
The meeting termed the arrests of political leaders as unconstitutional and vindictive and said that the purpose of the 'NAB-Niazi nexus' was to pressurize the opposition. Members vowed to challenge the government's unconstitutional tactics on every forum.
Later, PML-N leader Ahsan Iqbal briefed the media, saying that their movement would not end till Imran Khan leaves office. He said the government is interfering in GB elections but they will neither tolerate horse trading nor allow a replay of 2018 elections.
"Our alliance is not aimed at coming to power," Ahsan Iqbal clarified.
JUI-F leader Abdul Ghafoor Haideri said that our battle is a political one and not targeted towards institutions. The opposition will stand firm against the government, he added.
Former Prime Minister Shahid Khaqan Abbasi said that PDM movement would be launched all over the country. The meeting discussed the restoration of democracy in the country and all decisions were taken with consensus. The PDM movement will bring about political change, ridding Pakistan of all undemocratic activities.