Published On 28 September,2020 11:36 am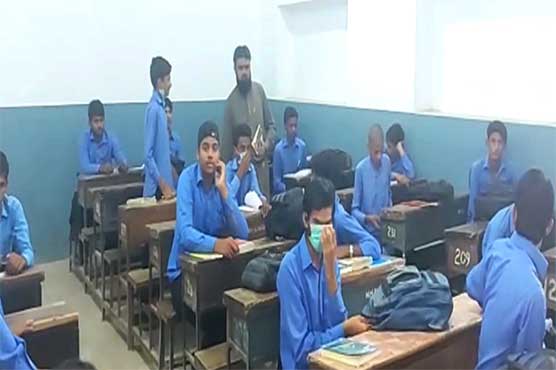 Coronavirus may spread again if adequate precautions are not taken.
LAHORE (Dunya News) - As schools and colleges reopen across country, severe violations of the Covid-19 standard operating procedures (SOPs) were being observed in the educational institutions.
Even though the coronavirus cases are on the decline, the public health threat still exists and the disease may spread again if adequate precautions are not taken.
Days after reopening of educational institutions, teachers and students have started flouting precautionary measures all across the Punjab and relaxed attitude of the administration towards enforcement of the Covid SOPs in the schools and colleges is giving rise to fears of second wave.
Worrisome disregard of precautionary SOPs by school administration has also been observed in public schools of major cities of Punjab including Lahore, Multan and Bahawalnagar. Directions of social distancing were neglected by students as well as staff and hand sanitizers were nowhere to be found.
Administration and students also defied orders on wearing masks increasing chances of coronavirus infections. According to some health experts, masks are the single most powerful weapon against coronavirus pandemic which can significantly reduce rate of infection in a community.