Avenfield reference: IHC adjourns hearing till Dec 9 on pleas of Maryam, Capt Safdar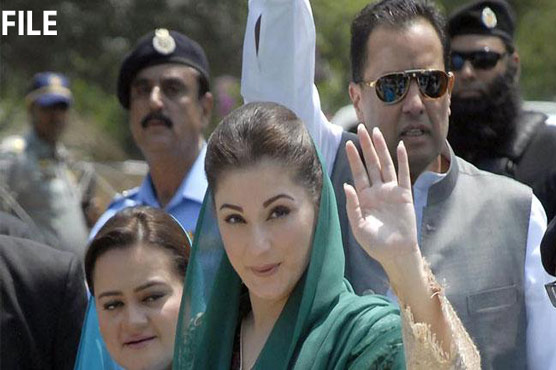 Two member bench of IHC heard the plea
ISLAMABAD (Dunya News) – Islamabad High Court (IHC) Wednesday adjourned hearing till December 9 on pleas by Pakistan Muslim League-Nawaz (PML-N) leader Maryam Nawaz and Captain (retd) Safdar against sentences awarded to them by accountability court.
During the hearing, Justice Amir Farooq remarked that an appeal by Nawaz Sharif against sentence in the same case is being heard by the court. Warrants for arrest of former prime minister have been issued and let's first conclude this issue than all appeals can be heard together, court remarked.
Talking to media outside IHC, Maryam rejects reports that a representative of former prime minister Nawaz Sharif met Chief of Army Staff (COAS) General Qamar Javed Bajwa.
Talking about health of PML-N supremo, she said that Nawaz Sharif needs to get operated but surgery has been postponed due to coronavirus outbreak as former prime minister has weak immune system.
Earlier, before arrival, Maryam Nawaz received warm welcome by the party workers at Bara Kahu.
---
Trial History
---
An accountability court on Friday July 06, 2018 jailed former prime minister Nawaz Sharif, daughter Maryam Nawaz and son-in-law Captain (r) Muhammad Safdar for 10, 7 and 1 year respectively, in Avenfield properties reference case filed by the National Accountability Bureau.
NAB's prosecutor had argued law turns onus of proof on accused after ownership of flats [by Sharifs] has been established. He said, "The agreement of money transfer turned out to be fake. Likewise, the deed declaring Maryam Nawaz trustee was also proved fake. She possesses assets beyond her declared source of income."
NAB prosecutor further added Sharifs had not registered 'Calibri font' trust deed in UK. He said, "Maryam Nawaz crafted this trust deed and declared his brother beneficial owner."
Maryam Nawaz and Captain (r) Safdar, who were candidates for the general elections 2018, were also disqualified from contesting elections for 10 years each.
The sentence and a fine of 8 million pounds, or $10.6 million, came almost a year after Supreme Court removed Sharif from office and less than five months after the court barred him from holding office for life.
Safdar was arrested by the NAB authorities in Rawalpindi on July 9 while Nawaz Sharif and Maryam were taken into custody by the officials after their flight landed at Lahore's Allama Iqbal International Airport. They were shifted to Adiala Jail.
Afterwards, the IHC had suspended sentences of Nawaz Sharif, Maryam Nawaz and Captain (r) Safdar in the Avenfield reference.
Justice Athar Minallah, while announcing the verdict, had directed to release ex-prime minister Nawaz Sharif, his daughter Maryam Nawaz and son-in-law Captain (r) Safdar over surety bonds worth Rs0.5 million each.
On the other hand, an accountability court had handed Nawaz Sharif sentence in the Al-Azizia Steel Mills corruption reference, and acquitted him in a second reference related to Flagship Investments.
In the Flagship reference, NAB had claimed that Sharif and his sons set up Flagship Investment Limited and 15 other companies and used these companies "to manage/acquire expensive properties/any movement of funds to hide the real sources of funds."