IHC reserves verdict in Tezgam Express inferno case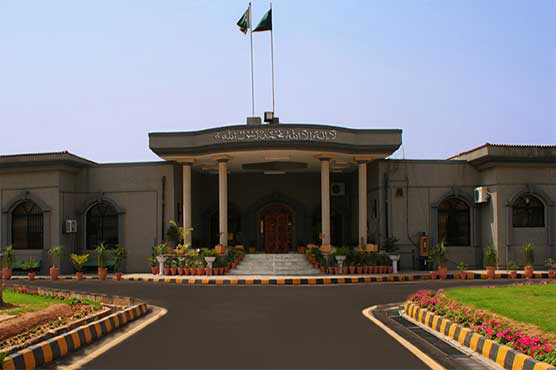 Plaintiff lawyer said that Pakistan Railways minister Sheikh Rashid should resign over misconduct.
ISLAMABAD (Dunya News) – Islamabad High Court (IHC) on Friday has reserved verdict in a case pertaining to October 31, 2019, Tezgam Express inferno incident that occured near Rahim Yar Khan.

During the hearing, the plaintiff lawyer said that Pakistan Railways minister Sheikh Rashid should resign over misconduct of his department. The court remarked that if we seek resignations on misconduct then all the ministers will be sent back to their homes.

It is pertinent to mention here that at least 75 passengers had lost their lives and over 40 sustained critical burn wounds when three carriages of a Tezgam Express caught fire near Talwari Station in Liaquatpur area of Rahim Yar Khan. The train was bound from Karachi to Rawalpindi.

Television footage showed flames pouring out of the carriages as people could be heard crying in the incident. Many commuters died and several were injured when they jumped from the moving train to escape the flames.
---
Forensic report confirms gas leakage from cylinders as cause of Tezgam inferno
---
A forensic report determining the cause of the Tezgam inferno confirmed "the gas leakage from cylinders in bogies no. 10 and 11" but declared that the fire had begun before presence of any flammable substance(s) in the bogies.

The two-page report issued by the Punjab Forensic Science Agency Lahore explained that no evidence of petrol, kerosene or any other liquid flammable material from the wreckage of the bogies was found.

The report stated that the presence of sulfur particles in the bogie no. 11 has confirmed the leakage of gas.

The claims of both Minister for Railways Sheikh Rasheed, who had stated that the fire broke out due to cylinder explosion, and Pakistan Railways Chief Executive Officer Dost Leghari, who had claimed of short circuiting as the cause of the tragic incident, were been "suspicious" as evidence of ignition from spots other than the temporary kitchen between the two bogies was also unearthed.
---
Sheikh Rashid supports judicial inquiry into Tezgam Express fire
---
Minister for Railways Sheikh Rashid had voiced his support for judicial inquiry into the Tezgam tragedy and said that railways need a new system to punish corrupt employees.

He said that anyone involved in the Tezgam tragedy will be punished. However, he emphasized that completion of ML-I project will put an end to such incidents.
---
Railways ministry to reinvestigate Tezgam incident
---
The railways ministry had constituted an inquiry committee to reinvestigate the tragic Oct. 31 Tezgam fire incident near Rahim Yar Khan, according to a notification.

The legal status of the federal government inspector of railways (FGIR) was termed suspicious as the appointment was made by railways secretary instead of the federal government.