Diamer-Bhasha dam - a historic milestone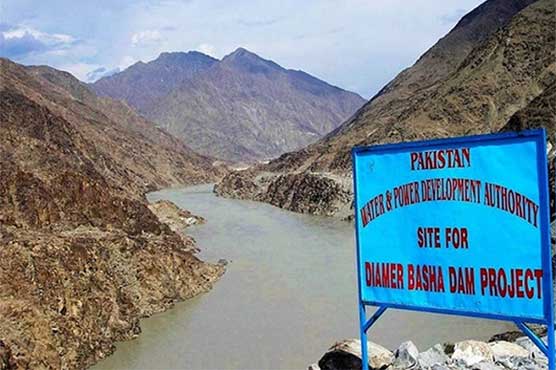 Diamer-Bhasha dam - a historic milestone
(Dunya News) – The Diamer-Bhasha Dam (DBD), a concreted-filled gravity dam on the River Indus between Kohistan district in Khyber Pakhtunkhwa and Diamer district in Gilgit Baltistan, is a well-engineered, viable and promising project of national significance to ensure water security of Pakistan.
---
Need for construction of new dams
---
To ensure national water security, the work has been started on long halted DBD Project, which will contribute to solving the water crisis, provide cheap electricity and boost agriculture of the Pakistan.
Hydropower is the safest and the most environment friendly method of power generation. Pakistan has hydel potential of 60,000 MW (as per WAPDA), however, at present Pakistan utilizes only 6595 MW / 11% of it.
Moreover, due to lack of storage capacity and poor conservation practices, Pakistan is annually throwing 29 mn acre-foot (MAF) water into the sea. Economic loss of this wasted water is more than Rs 4500 bn.
Pakistan has the capacity to store only 10% of its water resource. Per capita surface water availability of 5,260 cubic meters per year in 1951 reduced to around 1,000 cubic meters in 2016 and is likely to further drop to about 860 cubic meters by 2025.
Pakistan requests long term sustainable multi prong strategy to develop water reservoirs. Pakistan dumps water worth more than 20 bn $ into sea every year. Pakistan reliance on rivers flowing from India would be reduced.

DBD Project is likely to be completed in April 2028 to usher in an era of socio-eco development in the country besides bringing progress and prosperity for Gilgit-Baltistan.
In Pakistan, 90% of water is utilized by the agricultural sector. Moreover, the popularity of water-intensive crops like rice and sugarcane further accentuates the need for better water storage.

The Pakistan Council of Research in Water Resources (PCRWR) describes that Pakistan reached the "water stress line" in 1990 and crossed the "water scarcity line" in 2005. The yearr 2025 has been mark as the year when Pakistan - if it doesn't mend its ways soon - will turn from a "water-stressed" to a "water-scarce".

According to a report by Intl Monetary Fund (IMF), Pakistan ranks third in the world among countries facing acute water shortage. Hence, for the first time in the history of Pakistan, two mega projects were launched in a period of 12 months - Mohmand dam (2024) and Diamer-Basha dam (2028).

The construction of Diamer Bhasha Dam (DBD), to address water / power shortfall, is very important for Pakistan's economy and development as PM vision: "Ensuring water security is the government's first priority".
DBD will make Pak self-sufficient in water storage and environment friendly energy. The project is designed to serve as the main storage dam of the country, besides Mangla and Tarbela dams, and its storage would be helpful for alleviating flood losses.
---
Dividends of DBD
---
In 2028, the tallest roller compact concrete (RCC) dam (272 Ms) in the world will become the main storage dam for Pakistan, alleviating water shortages and reducing floods.

As many as 1.23 mn acres of additional land to be brought under cultivation; annual agricultural benefits of the project have been estimated Rs. 279 bn.

Adding electricity of 18,100 GWh (bn units) through a clean, renewable source to the National Grid annually with benefits of about Rs. 290 bn to the national exchequer every year. Additional electricity of approx 2,520 GWh at existing projects including Tarbela, Ghazi Barotha, Jinnah and Chashma, further, additional electricity of approx 7,500 GWh at future projects including Dasu, Patan & Thakot.
Presently 44 schemes of Education Development Plan, health plan and livelihood interventions of social safeguards worth Rs. 201.47 million have been completed (Construction of Protection Bunds, Reconstruction of Irrigation Channels, Development of Recreational Park at Chilas, Upgradation of Govt High Schools at Shahi Mahal Tehsil Darel & Lark Tehsil Tangir District Diamer, Construction of Water Supply and Pipe Irrigation Sch).

Construction of dam would enable Pakistan to offset water induced variation in water flows. Importantly, it will add 35 years to the life of Tarbela dam by reducing sedimentation. Reservoir with live storage of 6.4 MAF would augment the irrigation releases from Tarbela.

It will also be a major source of flood mitigation and save billions in damages caused by floods each year. The 2010 floods in Pakistan inflicted a cumulative financial loss of US$ 38 bn.

The project is estimated to help alleviate acute irrigation shortage in the Indus basin irrigation system caused by progressive siltation of the existing reservoirs, besides substantially contributing to reduce intensity, quantum and duration of floods and reduce magnitude and frequency of floods in the River Indus downstream.

It will also contribute to country's socio-eco uplift. Construction of the dam will give jobs to 16,500 people directly and Pakistani engineers (15500 lab/staff and 1050 engineers).

Local materials and expertise will be used during construction to provide the people with ample job opportunities. The project will utilize a large quantity of cement and steel which will boost our industry - as 2.03 mn ton of cement and approx. 1 mn ton of steel is needed during its const.

Construction of Cadet College in the area is in progress. WAPDA share maximum upto Rs. 1,200 mn. Construction of 10 x valley roads (5 km each) of worth Rs. 363.841 mn is in progress. (Substantially completed).
---
Financial and Acquisition Aspects
---
Diamir Bhasha Dam's contract was signed recently with a total outlay of Rs 442 Bn - which is one of the biggest contracts of Pakistan history.

China Power holds 70 % of the contract while 30 % pertains to FWO. The govenrment will provide 30% investment for the project (8-9 yrs), while the rest will be arranged by WAPDA.

The two major hurdles of land acquisition and roadmap for mobilization of fin resources have been overcome / planned and streamlined.

Pakistan will proceed as a sovereign state to complete this national project of immense economic and strategic importance.

Regarding the compensation money given for the land and houses, which will be inundated by the dam, WAPDA has negotiated with the locals that they will be compensated.

Moreover, Rs 78 bn will be spent for the welfare of the people of Diamer-Bhasha.

The concept of modern villages will be implemented and effected people will be shifted there. There is a complete resettlement plan and will be executed accordingly. The modern villages will also add in socio eco development of the area (one Model Village at Harpan Das is being provided by Dist Adm GB).
---
No Seismic Risks to the Site
---
Comprehensive seismic parameter evaluation has been carried out. Two strong motion accelerographs are operational at the dam site since 2002 and a network of 10 micro seismic stations were installed in August 2007 within a diameter of 50 km around the dam site and are still operational.

Montreal Engineers Coy Ltd. during its ranking and feasibility studies identified Bhasha dam site as feasible site for large dam and proposed two types of dams, Earth Core Rock fill Dam (ECRD) and Concrete faced Rock fill Dam (CFRD).

In 2006, WAPDA hired two more international panels of experts. First panel consisted of Bernard Tardieu - France, Brian Forbes - Australia, Amjad Afgha - Pakistan, and Oivind Nicolaysen - Norway. Second panel consisted of Walter Aittke - Germany, Brian Forbes - Australia, Fobio Villegas - Colombia and Abdul Shakoor - US. Both international panels of experts recommended Roller Compacted Concrete dam to be built at Bhasha dam site and design of RCC dam was finalized.

Original Designer M/s Lahmeyer International (Tractabel) again reviewed the seismic parameters in 2019-2020. They have endorsed that the dam design fulfills the safety standards.

Seismicity as an emerging science development from its infancy to quite adv stages but still it has not achieved the maturity to blindly rely on it. In case of DBD site, micro seismic network has been established and data was collected and analyzed.
No geologist who has mapped the area at and near DBD has found an active fault. As project geologists - no large / great earthquake can be expected near the dam.

Keeping in view the geotechnical, hydrological and seismological aspects prevailing at DBD and in-depth cost analysis of various types of dams it was finally agreed that RCC dam would be most suitable, cost-effective and with the breakthrough in the construction technology it can be built faster than other types.

The DBD site is located near the center of an area that shows a remarkable absence of great faults and exhibits low seismicity rates.

The minimum distance of any earthquake level from site is 75 Kms (As per ICOLD Bulletin 148 - 2016) .
---
Indian Designs Checked
---
India has a dismal track record when it comes to settling water disputes with its neighbors. It has had water related disagreements with Nepal, Bangladesh, Sri Lanka and Pakistan. Some of its actions could also be termed water tsm.

India's objection towards the construction of DBD as being in a "disputed territory" is injudicious, misleading and preposterous. India has no locus standing over GB. "DBD is being built inside the Pakistan soil / territory".

Firstly, Pak is bldg DBD in its "own territory." Secondly, development of the area in question whose final status is to be decided through plebiscite under UNSCRs is not illegal / objectionable. India has itself construction a no of water storage projects in the IOJK.

Pakistan was particularly concerned regarding two Indian projects - Baglihar and Kishenganga hydroelectric dams - as Pakistan knew India could affect the timing and flow of water into Pakistan using these structures and violate IWT. IWT has its own significance, but the treaty was being violated by India. An Indian exit from the treaty would be perceived as "an act of war".

India's neo-fascist government has reiterated on different occasions its despicable plan to restrict / disrupt and stop flow of water to Pakistan from its share of the rivers under the IWT sponsored and guaranteed by WB. In 2016, Modi infamously said that "blood and water cannot flow together." A few weeks later on the banks of the Ravi, he said that he "would not let a drop of the Ravi flow into Pakistan".

Pakistan understands that the lifeline of Pakistan's economy - the Indus River - is under threat from a hostile neighbour. The consistent IWT violations, water security threats and belligerent attitude towards Pak made the construction of DBD nec.

Project like Diamer Bhasha dam and the proposed development of multiple dams in Indus River cascade will permanently avert India's evil designs for desertification of Pakistan's fertile lands.

India often blackmails Pakistan over stoppage of its water to Pakistan thus the dam would reduce Pakistan's reliance on rivers flowing from India.

Pak shall ensure fool-proof security of this strategic project.
---
Another symbol of Pak-China Friendship
---
After India's baseless and unwarranted objections over DBD, the WB stopped its funding. But later, China stuck to its stance and not only assists Pakistan in fin matters but also in its construction.

The tallest dam in the world will signify the higher than Himalayas friendship between Pakistan and China in the times to come. China and Pakistan conduct the economic cooperation in order to promote the economic development and improve the well-being / welfare of the local population.

Pak-China all-weather friendship is based on mutual respect and trust. Pakistan by virtue of its prized geo-strategic location and geo-economic credentials is indispensable for the grand OBOR initiative.

With the launch of Dam initiative, Pakistan and China entered a new era in their relationship. In addition to the already strong political and military relationship, economic relations will also improve exponentially.
---
Significance Of Diamer - Bhasha Dam
---
Diamer Basha Dam is being constructed on River Indus - 40 kilometer downstream of Chilas town. The project is of paramount importance for water, food and energy security of Pakistan. It has a gross water storage of 8.1 million acre feet (MAF) to mitigate floods and irrigate about 1.2 million acres of land. The projectect has an installed capacity of 4500 megawatt (MW) with annual energy generation of 18.1 billion low-cost electricity.

The eight MAF reservoirs with 272-metre height would be the tallest roller compact concrete (RCC) dam in the world.

Project would have a gross storage capacity of 8.1 eight million-acre feet and power generation capacity of 4,500 MW, with an annual generation of 18.1 billion units.

The dam will help provide cheap energy for the country's industrial development besides helping irrigate 1.23 million acres of barren land and will create 16500 jobs.

The irrigation would also help the country develop its food needs and also export vegetables and food resources while it would also deter floods.

Rigorous design standards and technical guidelines are available to design the dams to withstand earthquakes and all such world accepted world standards have been applied to the design of Diamer-Bhasha Dam.

The dam will produce 4,500MW of power, irrigate 1.2 million acres of agricultural land, and enhance Tarbela Dam's useful life by 35 years.

The generation of cheap electricity will help to reduce the existing tariff.

Reduction in import of oil and saving in foreign exchange ultimately increase of foreign reserves.

Reduction in Load Shedding by adding 2,160 MW in Stage-I, generating 12.22 Billion Units per annum.

Increase in Living Standards of local people due to development of new town with all modern civic facilities.

Opportunity of new jobs for local people during construction and operation of Project

Construction industry of Pakistan will also be flourished due to increase in demand of construction material.

Social & Economic development of the Local Area and Population.

Overall growth in economy due to induction of cheap electricity. This will help reduction in production cost of goods used locally and especially export goods to make them more competitive with other countries.

Project will create an enhance tourism opportunities in Kohistan and Gilgit Baltistan