Last Updated On 29 June,2020 03:57 pm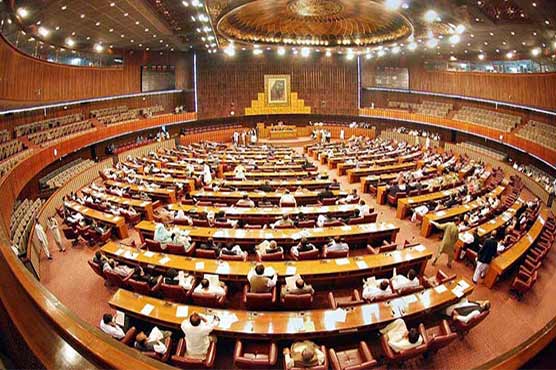 NA approves federal budget 2020-2021 amid opposition's protest
ISLAMABAD (Dunya News) – National Assembly (NA) on Monday has approved federal budget 2020-2021 in a session amid protest by the opposition benches.
The budget was moved by Minister for Industries and Production Hammad Azhar who said that the government has presented a tax free budget and it envisages relief measures not only for the construction sector but also for promotion of mobile phone manufacturing and electric vehicles.
He said duties and taxes on import of sixteen hundred raw materials have been brought to zero. It is the first time that the annual development plan carries the biggest allocations for Balochistan and Sindh, he told.
Hammad Azhar further clarified that the government has not increased the sales tax or petroleum development levy on petroleum products.

During the voting process, two members of Pakistan Tehreek-e-Insaf (PTI) government's coalition party Balochistan National Party-Mengal (BNP-M) supported the opposition side.

The amendments proposed by the opposition in the Finance Bill, 2020 were rejected by the House.

Meanwhile, NA speaker Asad Qaisar expressed resentment over opposition leaders for waving placards and chanting slogans against the government.
---
Budget 2020-21 presented in National Assembly, no new taxes imposed

---
On June 12, the federal budget for the financial year 2020-21 was presented in National Assembly by Federal Minister for Industries and Production Hammad Azhar.
The budget 2020-21 has total outlay of Rs 7,294.9 billion. This size is 11% lower than the size of budget estimates 2019-20. The net revenue receipts for 2020-21 have been estimated at Rs 3,699.5 billion indicating an increase of 6.7% over the budget estimates of 2019-20.
The provincial share in federal taxes is estimated at Rs 2,873.7 billion during 2020-21, which is 11.7% lower than the budget estimates for 2019-20.
The overall expenditure during 2020-21 has been estimated at Rs 7,294.9 billion, out of which the current expenditure is Rs 6,345 billion. The development expenditure outside PSDP has been estimated at Rs 70.0 billion in the budget 2020-21.
The size of Public Sector Development Programme (PSDP) for 2020-21 is Rs 1,324 billion. Out of this, Rs 676 billion has been allocated to provinces while Federal PSDP has been estimated at Rs 650 billion.
In the Federal PSDP, Rs 418.7 billion are allocated for Federal Ministries/Divisions, Rs 100.4 billion for Corporations, Rs 3 billion for Earthquake Reconstruction and Rehabilitation Authority (ERRA), and 7 B for COVID response and other Natural Calamities Program.