Last Updated On 15 June,2020 07:25 pm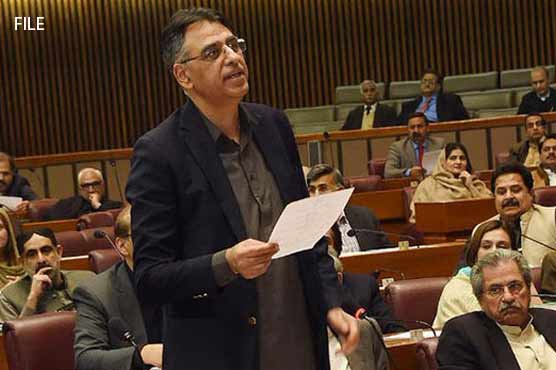 No use of ECL if one can escape by showing fake reports: Asad Umar
ISLAMABAD (Dunya News) - Federal Minister Asad Umar has brushed aside PML-N leader Khwaja Asif's request to put the names of State Bank Governor and Finance Advisor on ECL, saying that his confidence in ECL has been lost as there is no point in having an exit control list if one can escape the country by showing fake reports.
Addressing the National Assembly session on Monday, the Federal Minister for Planning said that the Khwaja Asif should be careful what he wishes for as last time, he spoke out against Shaukat Khanum cancer hospital and it received a record amount of donations.
He quipped that Khawaja Asif had misled Nawaz Sharif into thinking that people would forget Panama case, but now he is helplessly trapped abroad with fake medical reports. He said that Nawaz Sharif should immediately return to Pakistan.
Asad Umar said that Imran Khan came to power through the power of Pakistani people. The opposition used to say that Imran Khan is a cricketer, he knows nothing about politics and there was a time when the party only had one assembly seat. In 2013, PTI formed a government in Khyber Pakhtunkhwa and for five years we heard that Pervez Khattak failed but after that the people of KP gave us the mandate again. He urged the opposition to answer for their own deeds, and not try to hide behind Imran Khan.
Responding to the opposition's criticism of the coronavirus situation in Pakistan and the government's response, the Federal Minister said that the policy of complete lockdown has failed all over the world. Even the richest countries could not withstand the lockdown for extended period of time. He said that the current situation in the United States has left 40 million people unemployed and caused UK's economy to fall by 20%. In India, 65% of the population has fallen below the poverty line and death toll rose despite enforcing a complete lockdown.
He said that it seems that the Prime Minister always haunts the minds of the opposition. He reminded the house that the coronavirus pandemic has spread to more than 180 countries even though they do not have PTI in power, so what does that prove? He asked.