Senators express concern over Coronavirus, calls for concrete measures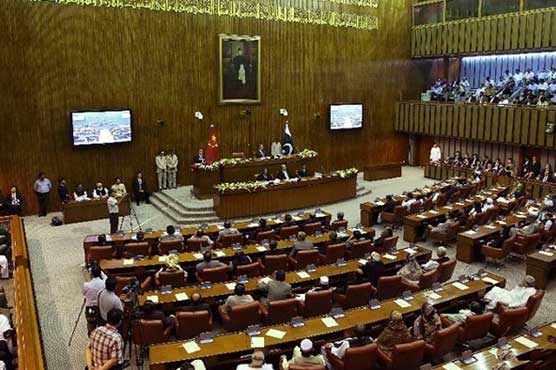 PML-N member Mushahidullah Khan also expressed concern over the absence of health minister.
ISLAMABAD (Dunya News) – The members of the Senate on Friday while expressing concern over the Coronavirus and demanded the government to take concrete measures to prevent it from spreading.
As the Senate session begin with Chairman Sadiq Sanjrani in chair, the members of the Upper House of the Parliament demanded the government to take the House in confidence over the measure taken to prevent the disease.
They demanded the government to brief the Senate on measures being taken to prevent the virus.
PML-N member Mushahidullah Khan also expressed concern over the absence of health minister.
The senators while raising the issue of shortage of mask in the House said that disappearing masks from markets is a regrettable act. They also criticized government's measures to prevent the virus.
On the other hand, the government proposed to convene a full House committee meeting on Corona virus.
Leader of the House Shibli Faraz said that two labs have been set up in the country to diagnose Coronavirus, adding that 120 people were tested for Coronavirus.
He said that two people one from Karachi and one from Islamabad have been tested positive of Coronavirus, however, there condition is stable.
The leader of teh House said Ministry of National Health Services has adopted proactive measures to tackle the situation, adding that awareness campaign in this regard is also underway to educate the people about preventive measures that how to protect them from coronavirus.
He said so far two positive cases of coronavirus have been reported in the country and both are in stable condition.
Earlier today, the district administration in Islamabad issued coronavirus advisory and barred employees to mark biometric attendance at offices.
The advisory has urged the citizens to avoid crowded areas and handshakes. It has further been advised to the individuals to maintain a distance of two meters from those suffering from flu.
The workers who operate computers at offices have been directed to use gloves to avoid coronavirus which may spread through breathing and coughing.
It is pertinent here to mention that Special Assistant to Prime Minister on Health Dr. Zafar Mirza had on Wednesday confirmed first two cases of coronavirus in Pakistan and said there is no need to panic, things are under control.
On Thursday, Dr. Zafar Mirza tweeted that both patients of coronavirus are stable and improving. Contacts traced until now and tested are all negative, he added.