Rana Sanaullah again predicts govt's downfall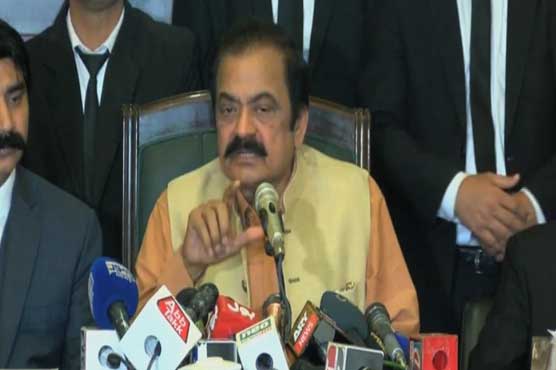 Rana Sanaullah alleged that state institutions were being misused for political victimization
LAHORE: (Dunya News) Pakistan Muslim League-Nawaz (PML-N) leader Rana Sanaullah has once again predicted the ouster of PTI government, saying that within one month opposition will stand united. He added that PML-N will not oppose in-house change but it will not be a part of that government.
Addressing a press conference in the party's secretariat in Model Town, Rana Sanaullah claimed that the opposition parties would unite within a month and his party would not stand in the way of in-house change.
He alleged that state institutions were being misused for political victimization, pulling the country downwards in a state of panic and political intolerance.
On the topic of former prime minister Nawaz Sharif's health, he made it clear that decisions regarding his treatment would be taken by his doctors in London and Punjab government's decision would be challenged in court.
On this occasion, Umair Baloch, Secretary General Islamabad High Court Bar joined PML-N and cited RanaSanaullah's courage and upholding constitutional supremacy as his motivation behind joining the party. He added that in the aftermath of the PIC incident, many lawyers' lost their licenses and were booked but the Doctors faced no consequences whatsoever.