Fair trial is my right: Rana Sanaullah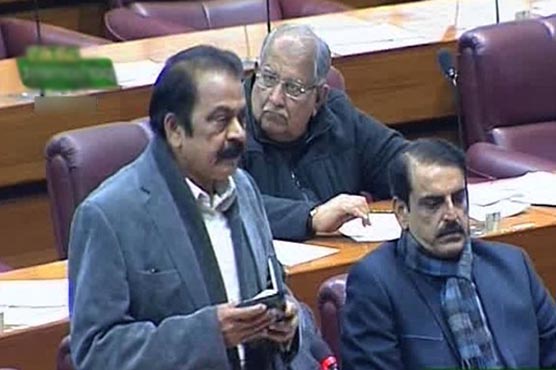 Being citizen of Pakistan, fair trial is my right: Rana Sanaullah
ISLAMABAD (Dunya News) – Pakistan Muslim League-Nawaz (PML-N) leader Rana Sanaullah on Friday has said that being a citizen of Pakistan, fair and transparent trial is his right.

Speaking in the National Assembly (NA), the PML-N leader told on January 1, he was traveling to participate in the party meeting when he was stopped and arrested.

The investigation officer didn't meet me and I was only told that drugs were recovered from my car, he continued.

The former law minister said that on the day of hearing, he was informed that security officers had confiscated 15kg heroin from his car. May Allah deal with those who leveled fake allegations against me, he prayed.

Rana Sanaullah said he has faced brutal behavior in the jail and that no inquiry was carried out at that time.
Subsequently, the PML-N leader has demanded to constitute judicial commission and parliamentary committee to investigate narcotics case against him.
Responding to the sppech of Rana Sanaullah, Federal Minister for Communications and Postal Services Murad Saeed said that PML-N senior leader is facing multiple allegations including Model Town killings.
The federal minister maintained that it is not right to discuss the matters in the NA which are ongoing in courts. "The court is hearing Rana Sanaullah's case in which the suspect and the Anti-Narcotics Force (ANF) both have different stance," he said.
"Rana Sanaullah should not have presented his viewpoint in the House while holding the Holy Quran in his hands. All of us have taken oath and everything that is said in the NA is true. It is a violation of oath if we lie here.

"Have we forgotten the Model Town incident which occurred on his orders? Should we forget the groans of the little girl who was questioning the murder of her mother?
"The leaders from the opposition benches are being tried in courts but they don't hesitate in delivering speeches in the House."