Ahsan Iqbal disassociates himself from construction of Sports City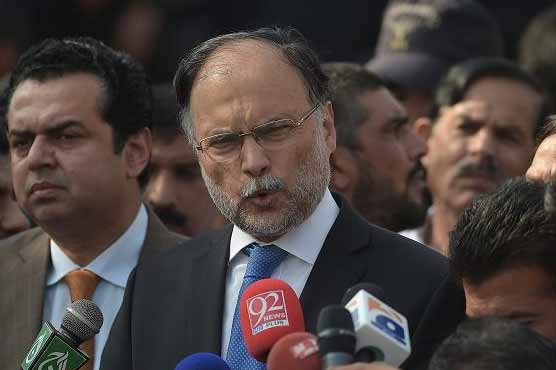 Ahsan Iqbal said NAB should issue him certificate about whether his assets were more in 1993 or now
NAROWAL (Dunya News) – Pakistan Muslim League-Nawaz (PML-N) senior leader Ahsan Iqbal on Sunday disassociated himself from construction work of Sports City in Narowal, claiming that project is being used to defame him.
Speaking to journalists regarding corruption claims former Interior minister said that Sports City was approved by forum of the Ministry of Planning Central Development Working Party (CDWP) and the development budget is granted after the approval from the cabinet and parliament.
He claimed that his ministry was not involved in any construction work and project is being used to blackmail him and urged NAB to present its stance to media regarding irregularities in Sports City. "I cannot be suppressed or fear due to the governmental pressure and I am always ready to give arrest", he said.
He further said that government is making mockery of justice in the name of accountability by only targeting the PML-N, adding that NAB should issue him certificate about whether his assets were more in 1993 or now.