OIC shouldn't be called a dead horse: FM Qureshi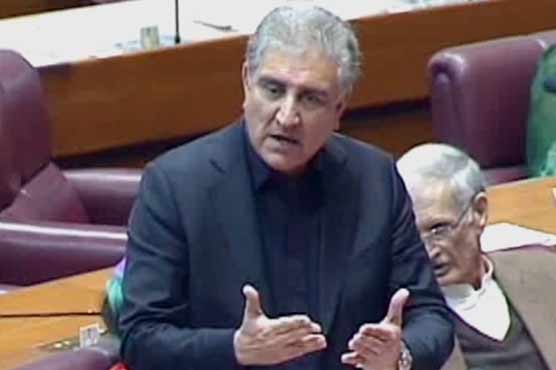 The foreign minister said that Kashmir issue has been internationalized after 1965.
ISLAMABAD (Dunya News) – Foreign Minister Shah Mehmood Qureshi on Wednesday said that entire nation is united over Kashmir issue and there is no question of weakness in this regard.
Speaking on the floor of the National Assembly, he said that the Kashmir dispute is going on for the last 72 years and Pakistan raised the issue with the international community after India abrogated special status of the occupied Kashmir.
The foreign minister said that Kashmir issue has been internationalized after 1965 due to effective and prompt diplomacy of the government, adding that this issue has been raised and discussed in US Congress, EU parliament, UNSC, OIC, and parliaments of various countries.
Qureshi went on to say that human rights organizations like Amnesty International and Human Rights Watch have also supported Pakistan s stance of grave human rights violations in Occupied Kashmir. "About 70 heads of states, governments, and foreign ministers of different countries were contacted to sensitize the world community to highlight the Kashmir issue," he said.
He said: "We have tried to send the voice and concerns of the people of Pakistan to Kashmiris across the Line of Control, living under constant siege for over 120 days and over 1100 protest demonstrations have been reported whenever Indian occupation forces relieved curfew in the valley."
"India is afraid of the backlash of Kashmiris to its illegal acts of annexing Kashmir on 5 August this year," he added.
Qureshi also invited the opposition to come forward to give its input and assured that every positive suggestion will be incorporated to highlight the Kashmir issue.
Responding to PML-N leader Ahsan Iqbal, Qureshi said that he shouldn't call Organisation of Islamic Countries (OIC) a dead horse as the OIC has 57 countries and we need their votes.
"We cannot offend our OIC friends," he said and added you [Ahsan Iqbal] are not serving Pakistan and Kashmir by calling the OIC a dead horse.