CM Murad Ali Shah refutes accusations against him by Yousuf Thailay Wala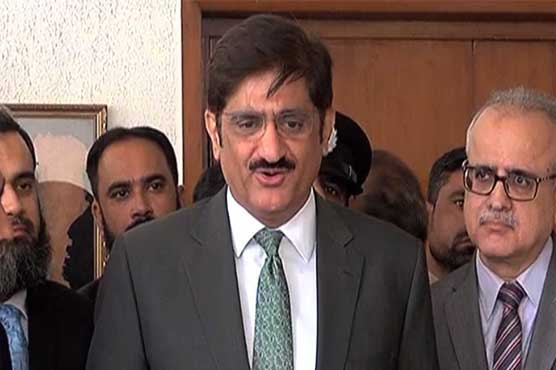 The chief minister spoke to the media after attending a ceremony at the NIM, Karachi, on Thursday.
KARACHI (Dunya News) – Sindh Chief Minister Murad Ali Shah on Thursday strongly refuted accusations made by Muttahida Qaumi Movement-London (MQM-L) target killer Yousuf Thailay Wala – a vendor who was yesterday arrested by anti-street crime force and Soldier Baraz police – that he had met him, and claimed that a report carrying complete facts would be surfaced within two days.
The chief minister spoke to the media after attending a ceremony at the National Institute of Management in Karachi, and rebutted speculations over a controversial video statement of Yousaf under the custody of police.
Shah said it appeared as if the concerned senior superintendent of police (SSP) has been involved in conspiracy against him.
The chief minister, without mentioning any name, told the media that the terrorist was forced to speak that he had met him.
"I have never met him […] It has been found that the car with a fake number plate was being used by the Governor House," he said, adding that he had ordered removing monogram of the chief minister from all cars after resuming chief minister's office.
"The car under my usage is also labelled with a registration number […] I had instructed for registering cars," he said.
"There is no lack of good officers, but they are afraid of work […] they need to struggle hard for restoring confidence of the general public," he added, while mentioning that it was his discretion to alter his cabinet.
"Whenever need arises, I would do so," he went on to say.
Importantly, following Yousaf's statement, Soldier Bazar Station House Officer (SHO) Javed Sikander has been suspended from his duty.
Meanwhile, sources familiar with the matter told the media that following the statement of the arrested terrorist, SSP Ghulam Azfar might also be removed from his position before even investigations into the matter are concluded.
Yesterday, the suspect confessed to murdering people on party leadership's directives and admitted that he had met MQM leader Farooq Sattar at party's infamous former headquarters, Nine Zero.
The suspect further revealed that he was in contact with sector in-charge from London. He had also served in a private security company.