Nawaz Sharif bound to return after being declared healthy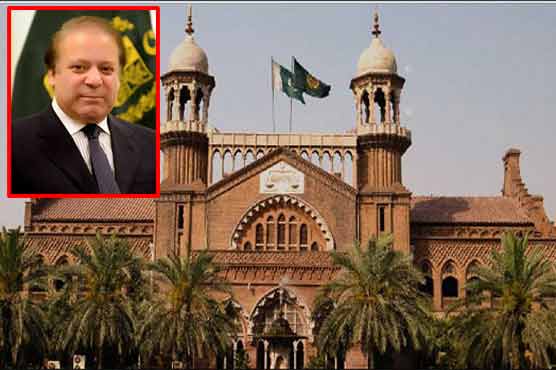 Nawaz Sharif has been allowed to travel for four weeks for medical treatment.
LAHORE (Dunya News) - The Lahore High Court today (Nov 16) suspended the condition imposed on former premier Nawaz Sharif owing to his name removal from the Exit Control List (ECL), and gave him one-time permission to travel abroad for medical treatment.
A two-member bench of LHC comprising Justice Ali Baqir Najfi and Justice Sardar Naeem gave the verdict after hearing the petition filed by PML-N President Shehbaz Sharif on the matter.
The verdict stated that Nawaz Sharif is allowed to go abroad for four weeks under certain conditions. The LHC remarked that "if it is undertaken by the petitioner as well as Mian Mohammad Nawaz Sharif for one time travel and timely return then his request to travel abroad can provisionally be looked into".
According to the verdict, the court formulated five law points and admitted the petition for regular hearing which will be fixed in the third week of January 2020.
The law points are as follows:
1) Whether a convict at all be excluded from or included in the list of Exit from Pakistan (Control) under 2010 rules.
2) Whether the condition attached to the impugned memorandum can be separated or is a part and parcel of it.
3) Whether any conditions be attached unilaterally by the federal government in the impugned memorandum on the basis of Exit from Pakistan (Control) Ordinance, 1981 and the rules made thereunder.
4) Whether the impugned order can be passed for a critically ill convict only on the humanitarian grounds.
5) Whether the conditions so imposed are permissible even after passing of the orders of bail and suspension of sentence? If yes, will it strengthen the court's order in any manner.
"Admittedly, Mian Mohammad Nawaz Sharif, has been granted one time permission to travel abroad in view of his critical health but subject to the conditions of submitting an indemnity bond of 8 million UK pounds or Rs1.5 billion are under judicial scrutiny and also in view of the undertaking of Nawaz Sharif and Shehbaz Sharif", read verdict.