Last Updated On 06 November,2019 12:08 pm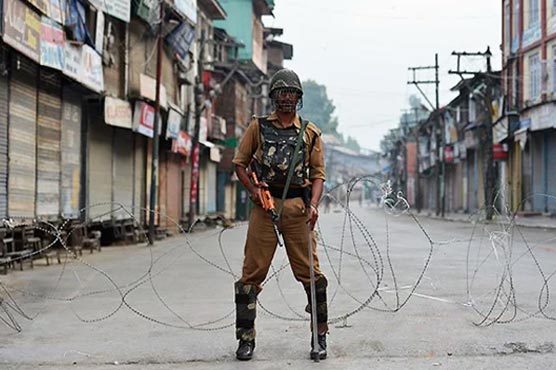 Military clampdown in IoK continues on 94th consecutive day.
Srinagar (Web Desk) – In occupied Kashmir, normal life continues to remain badly affected in the Kashmir Valley and Muslim majority areas of Jammu and Ladakh regions as unprecedented and inhuman lockdown entered 94th consecutive day on Wednesday (today), Kashmir Media Service reported.
Restrictions under Section 144 remain enforced and hundreds of thousands of Indian forces' personnel are present in every nook and corner of occupied Kashmir, adding to the fear and anxiety of the people.
Barring partial restoration of landline and postpaid cellular phones, communications links including internet and prepaid mobile connections remain totally snapped in the entire Valley and Muslim-majority areas of Jammu region.
People in the Valley are observing mass civil disobedience to show their strong resentment to India's brutal occupation, especially its August 5 illegal measures. In this regard, shops continue to remain shut most of the time except for few hours in the day and hardly any public transport is seen on the roads. Schools and offices are open but few turn up there. However, some private transport is plying and roadside vendors are doing their businesses to make their both ends meet.
A TADA court in Jammu has ordered that it will hear the case pertaining to the killing of 4 Indian Air Force personnel against the illegally detained Jammu and Kashmir Liberation Front Chairman, Muhammad Yasin Malik on November 26. On September 10, 2019, a warrant was issued against Yasin Malik and three others who were falsely implicated in this incident which took place on January 25, 1990 on the outskirts of Srinagar city.
Senior Congress leader, Ghulam Nabi Azad, has slammed the BJP-led Indian government's handling of the Kashmir issue saying even now the Indian political leaders, Members of Parliament and media persons are not allowed to visit the newly created union territory of Jammu and Kashmir, whereas MPs of foreign countries are given the permission for the same. However, he maintained that as long as BJP is in power, the situation would not improve.