Last Updated On 05 November,2019 10:41 am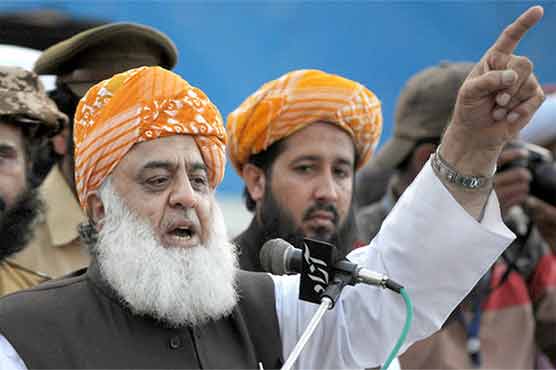 Close to achieving objectives of Azadi March: Fazlur Rehman
ISLAMABAD (Dunya News) - JUI-F chief Maulana Fazlur Rehman on Monday said they are close to achieving the objective of the anti-government protest. He said opposition has agreed that only we will decide when to call off this sit-in.
Addressing the participants of Azadi March in federal capital, he said we want to see a stronger Pakistan. He said all political parties are on same page and government remains alone today. He said APC of opposition has appreciated Azadin March.
Fazl said opposition has agreed that only we will decide when to leave this sit-in. He said we are getting closer towards our goals. Fazlur Rehman said all opposition parties today gave the assurance that they will not leave the JUI-F alone in the anti-government movement.
"We want to pull Pakistan out of isolation," said the JUI-F leader, adding that there is something going on at every front.
"Imran Khan was first selected, now he is rejected," said Fazl to the crowd.
On the meeting, Fazl said that the doubt about the opposition being divided has been laid to rest.
He said rumors against azadi march have lost pace, adding that he is truly grateful to opposition leaders who supported and paid us rich tribute to this March.
He said Azadi March is voice of entire nation. He said Pakistan s foreign policy is a failure and internally country is unstable, adding that loans taken in one year are more than the those taken in 70 years of history.
Earlier, an All Parties Conference (APC) of the opposition parties decided to continue sit-in for two more days.
The decision was taken during an all parties conference summoned by Jamiat Ulema-e-Islam-Fazl (JUI-F) chief Maulana Fazlur Rehman for planning a joint course of action for the Azadi marchers to proceed for increasing pressure on the government. All opposition parties had been invited to attend the APC.
Sources said that the Pakistan Peoples' Party (PPP) and Pakistan Muslim League-Nawaz (PML-N) supported to continue sit-in for two more days.
The PPP and PML-N are not against staging sit-in at Peshawar Mor but against staging sit-in at D-Chowk.
Both the opposition parties opposed marching towards D-Chowk and staging sit-in.
Sources further said that the sit-in would continue until the government's negotiating team and opposition's Rehbar Committee reach any conclusion.