Last Updated On 04 November,2019 03:53 pm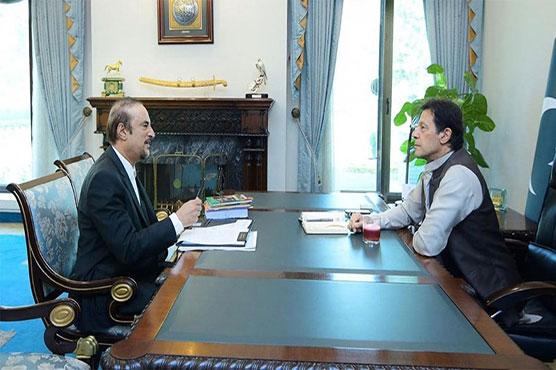 PM Imran Khan, Babar Awan deliberate on current political situation.
ISLAMABAD (Dunya News) – Prime Minister Imran Khan and Dr Babar Awan deliberated on country's political situation including Jamiat Ulema-e-Islam-Fazal's Azadi March and other legal and constitutional affairs in a meeting, Dunya News reported on Monday.
Imran Khan affirmed that state comes before politics and the Pakistan Tehreek-e-Insaf-led federal government will not let the state become weak as law will be implemented over all. The premier vowed to strengthen the institutions for Pakistan's stability.
Expressing views on Kartarpur Corridor, the PM stressed that the opening of this passage will be the best depiction of inter-faith harmony and Pakistan is ready to welcome Sikh community from around the globe.
Imran Khan maintained that the government's efforts to stabilize economy are bearing fruits as the current account deficit has reduced by 32 percent.
Babar Awan said JUI-F Chief Fazal-ur-Rehman's sit-in is against the judicial decisions because the court had only allowed to carry out a march, not to stage sit-in. Fazal-ur-Rehman's Azadi March has pushed the Kashmir cause behind, he added.
The PTI leader congratulated PM Imran Khan on timely completion of Kartarpur Corridor. Record increase in remittances is due to the trust of overseas Pakistanis in this government, he concluded.