No Jewish conspiracy needed when Fazal is in Pakistan: Imran Khan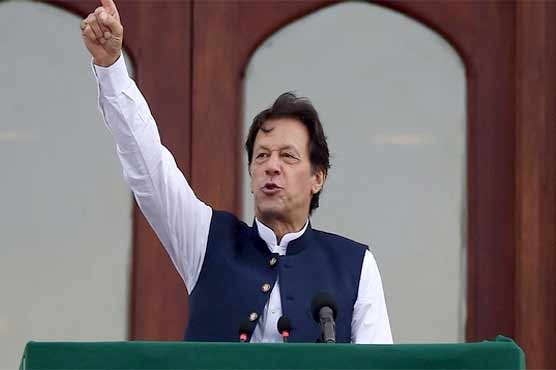 No Jewish conspiracy is needed when Fazal-ur-Rehman is in Pakistan: Imran Khan.
GILGIT (Dunya News) – Prime Minister Imran Khan Friday said no Jewish conspiracy is needed against Pakistan when Jamiat Ulema-e-Islam Fazal (JUI-F) Chief Maulana Fazal-ur-Rehman is present in the country.
The premier addressed a rally in connection with independence of Gilgit-Baltistan and reiterated that NRO will not be given to the corrupt mafia regardless of the anti-government protest that is being held in the federal capital.
"From whom the protesters of Azadi March want freedom? Pakistan Muslim League-Nawaz (PML-N) and Pakistan Peoples Party (PPP) workers do not even know why they are participating in the march.
"Indian media is giving coverage to Fazal-ur-Rehman as if he is an Indian citizen. The enemies of Pakistan are happy with Azadi March. All parties have gathered to pressurize me. Why is the opposition afraid of accountability if it has not done any corruption?
"Those times have gone when Islam was used for political motives to gain power. Pakistan Tehreek-e-Insaf (PTI) government has obtained details of the corruption that the opposition parties committed and they are now afraid of being held accountable. The JUI-F chief gets sold on diesel permit.
"Pakistan's debt soared from Rs 6,000 billion to Rs 30,000 billion. Even the children of these corrupt leaders are billionaires. The father of former finance minister ran a bicycle shop. Nawaz Sharif's children own properties worth billions.
"The plundered money is sent abroad which leads to shortage of dollar and as a result, devaluation of Pakistan rupee. The country becomes poor due to corruption against which I have been fighting for 22 years.
"Inflation rate was highest during Pakistan Peoples Party tenure. PPP Chairman Bilawal Bhutto Zardari calls himself a liberal but he is only a corrupt liberal."