Last Updated On 31 October,2019 05:23 am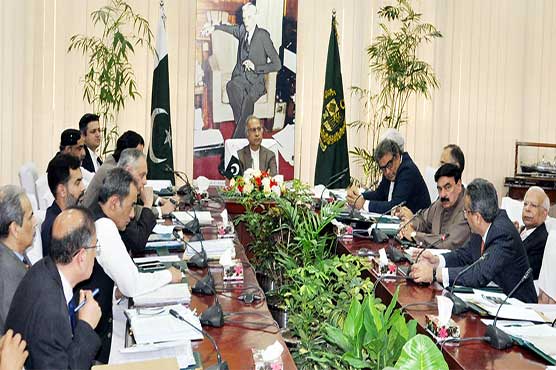 The decision was taken in the ECC meeting chaired by Abdul Hafeez Shaikh in Islamabad on Wednesday.
ISLAMABAD (Dunya News) - Economic Coordination Committee (ECC) of the Cabinet has given a go-ahead for release of 650,000 tonnes of wheat from PASSCO stocks to the provincial governments of Khyber Pakhtunkhwa (KP), Sindh and Balochistan to ease out the demand and supply equilibrium in the local market.
The decision was taken at a meeting of the ECC held on Wednesday at the Cabinet Block with Adviser to the Prime Minister on Finance and Revenue Dr Abdul Hafeez Shaikh in the chair.
In its meeting held today, the ECC was informed by the Ministry of National Food Security and Research that the PASSCO and Provincial Food Departments had reported their stocks at the level of 6.444 million tonnes as compared to 10.093 million tonnes of the corresponding period of the last year. However, despite the fact that the total availability of wheat was estimated at the level of 28.256 million tonnes, including the leftover stock of 3.777 million tons as compared to the national requirement of 26.91 million tons of the country, the prices of wheat and flour still showed upward trend in the local market, the ECC was told.
On another proposal by the Ministry of Energy, the ECC also approved a proposal based on uniform seasonal pricing structure of "Use more electricity-pay less" to be applicable during the four winter months from November 2019 to February 2020, at the rate of Rs 11.9 per unit on all units consumed over and above the units consumed in the corresponding months last year by the domestic consumers (5kW and above), ToU meters, commercial consumers 95kW and above), ToU meters, and all except temporary industrial consumers.
The ECC was told that the proposal was aimed at utilizing the massive surplus electricity during the winter months when the demand plunges to 8000-9000 MW from an installed capacity of 35,000 MW. The Ministry of Energy said the proposal was based on similar models adopted in various countries, including Chile, and it was expected to lead to utilization of additional electricity to the tune of Rs 24 billion in four months.