Nawaz Sharif only got temporary relief: Firdous Ashiq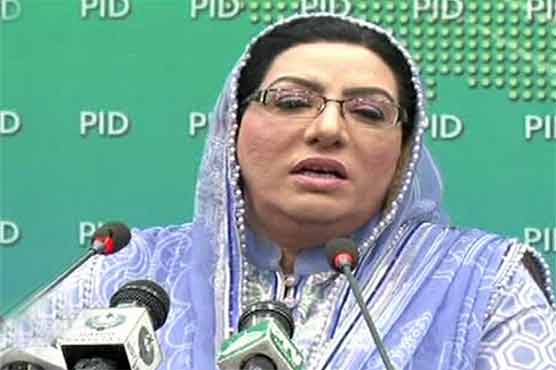 Awan asserted that it is not the government's responsibility to punish or release the accused.
ISLAMABAD (Dunya News) - Special Assistant on Information and Broadcasting Dr Firdous Ashiq Awan said that Nawaz Sharif has been given only temporary relief as the court awarded him just interim bail on the basis of medical board's suggestion.
Addressing a press conference in the Press Information Department (PID) after the verdict of the Al-Azizia case, she said that the court took into consideration all the factors while awarding the interim bail to the former premier, whereas the final decision will be made on Tuesday.
SAPM Awan expressed that the sentence was suspended on medical grounds and it is linked with all the health indicators of a patient. "We, all, are praying for Nawaz Sharif's recovery", she added.
Dr Firdous Ashiq Awan asserted that awarding and suspending of sentence to any criminal lies with the courts, and government has nothing to do with it. "The government operates under the prescribed rules of the courts", she expressed adding it is the prerogative of the court to provide bail.
She went on to say that to ensure best medical facilities to PML-N president is government's priority. "Nawaz Sharif were admitted in a deteriorating health condition but his health is improving now", she added. "Nawaz Sharif was a cardiac, kidney and diabetes patient even prior to his arrest".
Responding to a question about Nawaz Sharif's treatment in abroad, she reiterated that government will accept whatever decision the court will take in this regard. "To follow the judicial decision is government's decision but Nawaz Sharif has not submitted any such request so far", she added.
On the other hand, SAPM Awan criticizing the PPP chairman Bilawal Bhutto's statement that government is extracting revenge on political prisoners, she expressed that the government is paying the medical bills of corrupt elements. She added that any prisoner, who goes to hospital for treatment, should pay his own bill and the government will set the priorities straight in this regard.