Last Updated On 09 October,2019 03:30 pm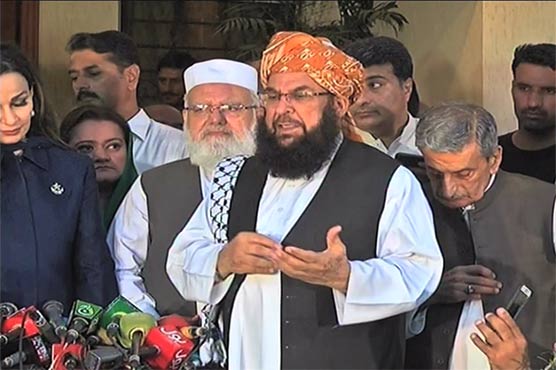 The party has asked for provision of security measures for the party workers during the long march.
ISLAMABAD (Dunya News) – Jamiat Ulema-e-Islam-Fazl's (JUI-F) senior politician Maulana Abdul Ghafoor Haideri on Wednesday submitted an application with the chief commissioner of Islamabad, seeking permission for carrying out anti-government protest campaign 'Azadi March' and a possible sit-in at D-Chowk in Islamabad.
In the written application, the opposition party JUI-F has maintained that the party owns the "democratic and constitutional" right of holding protests.
"The JUI-F will be holding the Azadi March on October 27, 2019 at D-Chowk, Islamabad, exercising its democratic and Constitutional right under Articles 16 and 17 of the Constitution against the incumbent government," reads the application.
It further says that under the leadership of JUI-F chief Fazlur Rehman, a large number of party workers will participate in the long march.
The party has further asked the local administration to ensure provision of essential security measures for the demonstrators.
It is pertinent to mention here that the ruling Pakistan Tehreek-e-Insaf (PTI) and its allies have been strongly opposing the proposed 'Azadi March' by the opposition rivals.
Two main opposition parties including Pakistan Peoples Party (PPP) and Pakistan Muslim League-Nawaz (PML-N) have so far expressed political and moral support for the proposed long march.
Later, JUI-F's Haideri held a press conference to clarify what he called the party's policy for the upcoming long march. He said that the party has decided to allow everyone to join the long march except teenagers less than 18 years of age.
"No one can hinder the protest campaign […] the chief minister of Khyber Pakhtunkhwa is talking big," he said, adding that his party wanted to get rid of the "selected government" and save the nation.
"It would be too soon to say for how many days the sit-in will be held […] if the Law is enabled in the country and democratic norms are being followed, then we are following our democratic right," he stated.
Importantly, he called the party workers to come out of their homes on Oct 27 and express solidarity with Kashmiris.
"All preparations have already been made for holding sit-in at D-Chowk […] government institutions are disturbing and pressurising our workers [to abandon the protest]," he mentioned, adding that they have refused to bow down to the pressure.