Last Updated On 06 October,2019 03:10 pm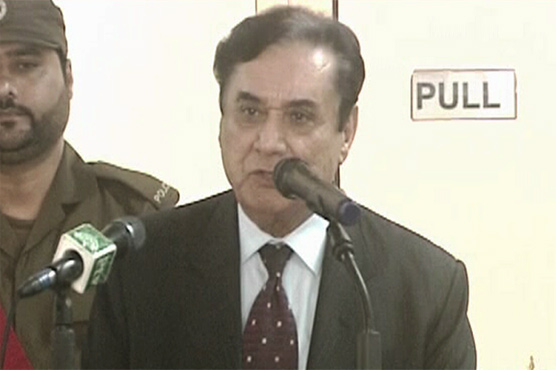 He, however, mentioned that certain measures were adopted for the betterment of traders.
ISLAMABAD (Dunya News) – National Accountability Bureau (NAB) chairman retired justice Javed Iqbal on Sunday categorically rebutted some of the reservations of the business community and traders against the accountability watchdog.
The bureau's chairman held a press conference in Islamabad, and stated: "Not merely a single institution responsible for the economic crisis […] we are neither without reins nor wholly independent […] it will be difficult to remain silent under the fire of criticism." "We will not let businessmen get demoralise as we aim for eradication of corruption only."
"Some of the traders' impressions regarding NAB are unreasonable and I negate some of the business community's concerns about the bureau," he stated, adding that the bureau instead has been striving to facilitate the business community with better environment to operate in.
"Traders expressed reservations over NAB during their meeting with the Prime Minister [Imran Khan] and Chief of the Army Staff [General Qamar Javed Bajwa]," he said.
"The bureau will never take unfriendly steps for businessmen […] NAB does not formulate business policies," he added.
"I have never demanded an arbitrary authority […] NAB functions independently but within the Constitution," he mentioned.
The chairman pointed out that it was important to respond to "unjustified" criticism and unemployment could be reduced if private sectors perform their due role. "NAB has no role to play in hiking dollar prices and increases in taxes," he said.
He, however, mentioned that certain measures were adopted for the betterment of traders.
---
'Doesn't aspire for Saudi model'
---
Mr Iqbal clarified that the bureau was in no way aspiring for sweeping powers as enjoyed by anti-corruption bodies in Saudi Arabia. The NAB chairman said he was well aware of the basic operational differences between democracies and monarchies.
"What I meant was that if NAB did have Saudi-style authority, we could also recover looted wealth at a much faster pace."
Mr Iqbal said from now onwards the accountability watchdog would not interfere in matters pertaining to taxation.
He said regretfully that he was particularly shocked by the reservations raised by a businessman who had recently written a letter for praising the anti-graft body's performance.
He further pointed out that NAB officers would never let such insinuations affect their performance or morale and would continue to protect national interests.
Earlier this week, Iqbal had sought the business community's cooperation for the success of 'his endeavour' to eradicate corruption in Pakistan.
"Business community should extend moral support to NAB against its fight against corruption. There was no need of NAB, if everyone ensured self-accountability."