Here is how people reacted on Twitter after 5.8 earthquake ratlled parts of Pakistan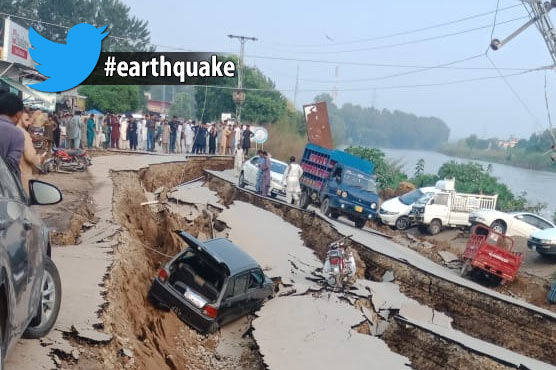 People are sharing their thoughts through the hashtag 'earthquake' on Twitter.
(Web Desk) – A strong 5.8 magnitude earthquake rocked the capital and other parts of the country on Tuesday afternoon with people taking to the social networking website Twitter to share their experiences through the hashtag 'earthquake'.
Related News: 19 dead, over 300 injured as strong earthquake rattles Azad Kashmir, other parts of Pakistan
Just minutes after the tremors, 'earthquake' started trending on Twitter in Pakistan with people inquiring after one another, sharing pictures and videos of the tremors that jolted various parts of Pakistan.
In Pictures: Strong earthquake wreaks havoc in Mirpur, Azad Kashmir

Strong shocks were felt in Pakistan's major cities including Lahore, Sheikhupura, Hafizabad, Chiniot, Jalalpur, Bajaur, Mirpur, Zafarwal, Skardu, Manga Mandi, Kohat, Charsadda,Kamoke, Kasur, Faisalabad, Rawalpindi, Daska, Gujrat, Sialkot, Abbottabad, Mansehra, Chitral, Malakand, Multan, Shangla, Okara, Nowshera, Attock, Jhang and adjoining areas.
The tremors were also felt Daska, Faisalabad, Chiniot, Mansehra, Batagram, Torghar, Mirpur (Azad Kashmir) Bhimber, Jhelum, and Mandi Bahauddin.
Here are some tweets:

We hope that you all are safe
May Allah keep everyone safe #Earthquake pic.twitter.com/j7jk8WppVD

— Bushkhan (@Bushkhan10) September 24, 2019
These are the images from Azad Kashmir, but we dont know what happened at occupied Kashmir, as there s no internet, no communication. Things would have gone wrong there as well, but we know nothing. Oh God, save those people! #Kashmir #Earthquake https://t.co/SlJHKLL7Vs

— Fahad Malik (@Fahad4014) September 24, 2019
#Earthquake in Jatlan near the Canal , Kharee Shrif area District Mirpur AZAD Kashmir : Sadly over 300 injured and 19 fatalities so far pic.twitter.com/NG4s9u15pk

— Lord Nazir Ahmed (@nazir_lord) September 24, 2019
May Allah protect every every human in this world....Guys! are you save?#earthquake pic.twitter.com/nVuTuQ0d1J

— Jahanzaib Zafar (@Oye_Zaib) September 24, 2019
Tips on how to respond to an #earthquake Stay safe pic.twitter.com/BenRHe2uvz

— Illango (@Illango_WB) September 24, 2019
I think it was the 1st time an earthquake occurred from this epicentre. The low depth made this earthquake more frightening.
Stay safe. #earthquake pic.twitter.com/a4EeUpGZgJ

— Faizan Hassan (@faizanwrites) September 24, 2019
Due to #Earthquake, reports of damages from #Mirpur building collapsed 50 people injured. Rescue teams are rushing. roads damaged by earthquake pic.twitter.com/eksYK8uzkk

— Ghulam Abbas Shah (@ghulamabbasshah) September 24, 2019
May God protect every every human in this world....Guys! are you save?#earthquake pic.twitter.com/enFQZXXjFR

— Shivam (@iamshivam38) September 24, 2019


Compiled by Alee Baig