Last Updated On 27 August,2019 03:12 pm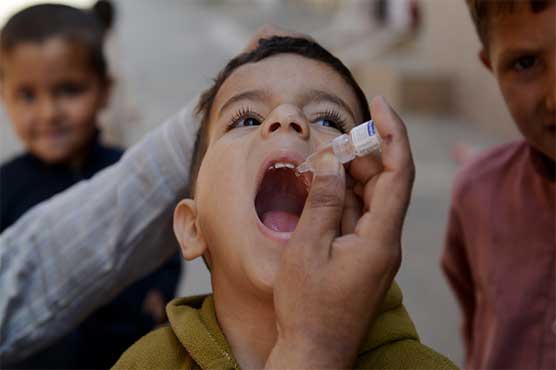 Anti-polio campaign continues in Punjab, KP and Balochistan on second day.
QUETTA (Dunya News) – The anti-polio campaign is ongoing in Punjab, Khyber Pakhtunkhwa (KP) and Balochistan on second day, reported Dunya News on Tuesday.
Children of five to ten years of age are being administered polio drops, and the target in Balochistan is to administer the drops to over one million minors.
Around 4,460 polio teams are active in the province including 3,732 mobile units, 265 fixed centers and 383 transit teams. Likewise, the campaign is ongoing in Bannu and other cities of the three provinces.
Prime Minister's focal person on polio Babar bin Atta maintained that those parents who are not administering polio drops to their children are paralyzing them.
The focal person took to Twitter and told that people from North Waziristan are supporting our polio teams and allowing them to vaccinate their children as smiles and happiness are all around. This is the "Naya Polio Programme" that will take Pakistan across the line, he wrote.
Babar bin Atta also revealed that Pakistan Polio Programme – in collaboration with Facebook – blocked 31 pages and profiles for spreading hate and inciting parents against polio vaccination. Under any circumstances we will not allow anyone to put our valiant polio workers in harm's way, he added.