Gen Qamar Javed Bajwa: The protector of national and ideological borders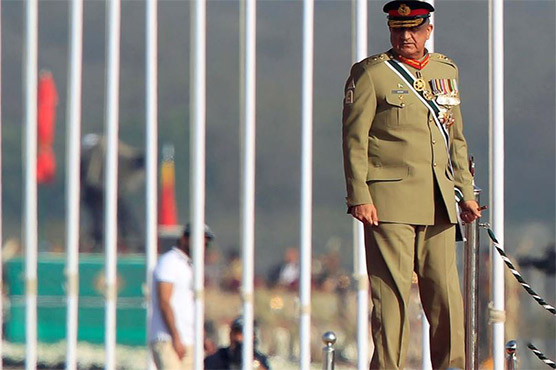 Veteran Gen Bajwa is fully capable and skillful of responding to all challenges facing Pakistan.
LAHORE (Dunya News) – At the time when General Qamar Javed Bajwa took charge as the Chief of Army Staff (COAS) of the Pakistan Army on November 29, 2016, the country had been fighting a fierce war against terror, and faced internal and external challenges.
At that time, former army chief Raheel Sharif had already been destroying the safe havens of terrorists under the operation Zarb-e-Azb that was in its final stages while the state underwent political crisis following the Panama Leaks – that later became a cause of toppling of ousted premier Nawaz Sharif's government.
Amid this political uncertainty, the distribution of national resources and NFC Award also underwent certain issues.
The previous government's words showed a lack of harmony between the judiciary and the parliament.
Moreover, lack of harmony between the judiciary and the parliament in the previous government was apparent.
In particular, Pakistan's relations with many foreign states had been deteriorating over time, including fragile Pakistan-United States' relations due to difference of approach regarding the Afghan war and confronting terrorism in South Asia.
These were the core problems when COAS Gen Bajwa took command of the armed forces.
Political analysts are of the view that Pakistan had been failing to formulate an effective foreign policy regarding South Asian states, and consider it an important reason of unsatisfactory relations with Saudi Arabia – that has been long lastingly viewed as a crucial ally of Pakistan.
Yesterday, PM Khan extended Gen Bajwa's command for another three years and yet again Pakistan has been facing unprecedented challenges on the eastern and western borders.
Veteran Gen Bajwa is fully capable and skilled of responding to these challenges amid simmering tensions with arch-rival India over the dispute of Kashmir.
Tensions between nuclear-armed states increased after Modi-led Hindu nationalist government revoked articles 370 and 35A, of its Constitutions through a rushed presidential decree, which had secured special autonomy of Jammu and Kashmir.
The withdrawal of the special privileges of Muslim majority Kashmir means residents of all parts of India can buy property and compete for government jobs and college places, raising fears that it will be flooded with outsiders.
Still, Pakistan needs to establish its foreign policy on a solid basis at the international level.
In view of all of these conditions and challenges, granting Gen Bajwa an extension was critically important as he has full awareness of Kashmir dispute and the insurgency in Balochistan.
---
Early life and education
---
Bajwa was born on 12 November 1960 in Karachi, Sindh, Pakistan into a Punjabi-speaking Jat family that initially hailed and belonged to Ghakhar Mandi, Punjab, Pakistan.
His father, Lieutenant-Colonel Muhammad Iqbal Bajwa, was an officer of Pakistan Army who died while in service in 1967 in Quetta, Balochistan, Pakistan.
Bajwa was seven years old when his father died and he was the youngest of five siblings. He and his siblings were raised by their mother, who died in September 2013.
Bajwa's father-in-law, Ijaz Amjad, was also a Pakistan Army officer who retired with a two-star rank, Major-General.
Bajwa completed his secondary and intermediate education at Sir Syed College in Rawalpindi and Gordon College in Rawalpindi before joining the Pakistan Army in 1978, which directed him to attend the military academy. He was sent to attend the Pakistan Military Academy in Kakul and passed out with the class of 62nd PMA Long Course in 1980.
Bajwa is a graduate of Command and Staff in Canada and later attended and secured his graduation from the Naval Postgraduate School in Monterey, California, United States.
He also attended the National Defence University.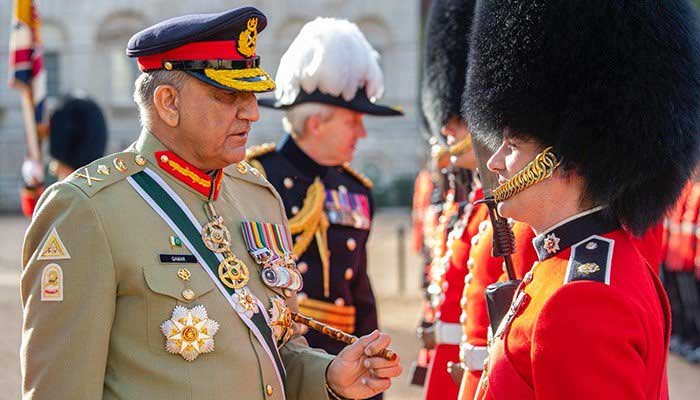 ---
Military career
---
After joining the Pakistan Army in 1978, Bajwa was sent to enrolled at the Pakistan Military Academy (PMA) in Kakul, and passed outfrom the PMA Kakul where he gained commissioned as 2nd-Lt., on 24 October 1980 in the 16th Baloch Regiment at the Sialkot Cantonment – the same unit that his father commanded.
In 1992, Major Bajwa briefly served in the 5th Northern Light Infantry Regiment in Kashmir. In addition, Lieutenant-Colonel Bajwa served in the X Corps, stationed in Rawalpindi, as a staff officer. Upon promoting as one-star rank army general, Brigadier Bajwa served as the Chief of Staff (COS) at the X Corps before promoting to the two-star rank and commanding a division in Northern Pakistan.
In 2007, Brig. Bajwa commanded the Pakistan Armed Forces-Africa Command, attached to the UN peacekeeping mission MONUSCO, in Congo Brig. Bajwa served in the Congo as a brigade commander under then-Major General Bikram Singh, the former Chief of the Army Staff of the Indian Army from 2012–14. Gen. Singh later termed Bajwa's performance there as "professional and outstanding."
After being promoted to two-star rank in May 2009, Major-General Bajwa took over the command of the Force Command Northern Areas (FCNA) as its GOC, stationed in Gilgit-Baltistan, Pakistan.
In August 2011, he was honored with the Hilal-i-Imtiaz (Military), and posted as an instructor at the School of Infantry and Tactics in Quetta, and later taught staff course at Command and Staff College in Quetta, and course on national security at the National Defence University.
On 14 August 2013, Maj-Gen. Bajwa was promoted to three-star rank and posted as field commander of the X Corps, stationed in Rawalpindi. He was appointed as Grade-I officer during his tenure as field commander of the X Corps. The appointment was commented in the news media that noted that Lt-Gen. Bajwa had been posted in X Corps thrice, which is the army's important and largest corps, which has experience of keeping control over the situation in Kashmir.
In 2014, Lt-Gen. Bajwa was appointed as Colonel Commandant of Baloch Regiment.
On 22 September 2015, Lt-Gen. Bajwa was posted in the Army GHQ when he appointed as the Inspector-General of the Training and Evaluation (IGT&E) where he was a Principal Staff Officer to then-Chief of Army Staff, General Raheel Sharif.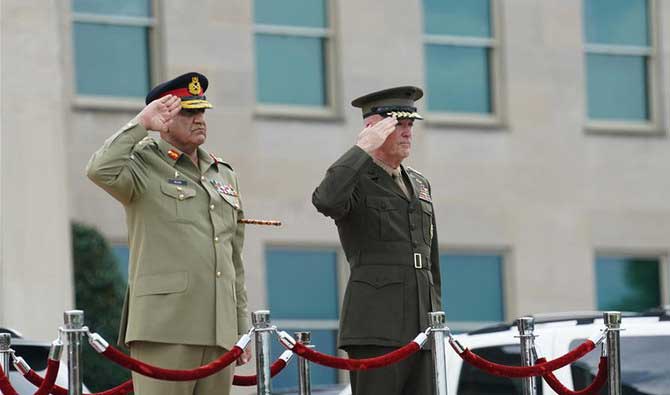 ---
Rising tensions with India
---
Early this year, hostile India put the blame of the Pulwama attack on Pakistan without any evidence and violated Pakistan's airspace in late February.
Responding to Indian aggression, Gen Bajwa vowed to give surprise to India and on February 27, Pakistan Air Force (PAF) shot down two Indian fighter jets and captured Indian pilot Abhinandan Varthaman – who was later released as a peace gesture by Pakistan to defuse tensions with India.
This vigilant response towards enemy has been seen as an act of bravery, and endorsing Pakistan's stance of being fully capable of responding to Indian threats under Gen Bajwa's command.
In the fresh tensions after India revoked Kashmir's special status, Gen Bajwa during a meeting of the National Security Council (NSC) apprised all members that Pakistan was fully prepared and capable of failing enemy's tactics.
Moreover, he expressed army's decision of standing with the government in its decisions, and as a result, Prime Minister downgraded diplomatic ties with India, including expulsion of Indian ambassador, and suspension of trade and train and bus services, to express solidarity with Kashmiris.
Contrarily, Gen Bajwa could be observed of extending a hand of friendship towards India when Sikh community in India urged him to open Kartarpur Corridor for Sikh pilgrims.
But the veteran general had to ensure implementation of internal and external security measures while assisting full cooperation in opening the corridor.
During his visit to United States on July 24, 2019, General Qamar Javed Bajwa was presented a guard of honour with 21 gun salute as he arrived at Pentagon.
---
Gen Bajwa's visit to U.S.
---
He met United States Secretary of State Michael Pompeo and the country's top military leadership during his visit.
In this regard, Inter-Services Public Relations (ISPR) spokesperson Maj Gen Asif Ghafoor gave an update on the military chief's engagements in the US.
Apart from Pompeo, the chief of army staff met Acting Defense Secretary Richard Spencer, Chairman of the Joint Chiefs of Staff Committee Gen Joseph F. Dunford and Joint Chief of Staff Gen Mark Milley. He was also part of the delegation that accompanied the prime minister on his visit to the White House.
Regional security situation and bilateral military cooperation between Pakistan and US dominated the discussions between Gen Bajwa and US military leadership.
"US leadership acknowledged contributions of Pakistan Army in the war against terrorism and [its] role towards the Afghan peace process," ISPR Director General Maj Gen Ghafoor stated.
The ongoing Afghan peace process remained a major point of discussion during Gen Bajwa's meeting with US Secretary of State Pompeo. The two also talked about the importance of bilateral relations between the two countries.
"Pakistan attaches great importance to restoring a robust bilateral relationship based on mutual respect, trust and shared values," the army chief was quoted as saying.
In a meeting with US Senator Lindsay Graham and retired US Gen Jack Keane, the army chief said that healthy relations between both countries were important for regional stability.
"Bilateral relationship holds potential for both countries and would also assist in regional stability," Gen Bajwa was quoted as saying.
He briefed Graham and Keane on the improved security situation of Pakistan and also highlighted the "resulting opportunities" for foreign investors.
Gen Bajwa also paid homage to US national heroes at the Arlington National Cemetery, where a special ceremony was held during which the national anthems of both countries were played.
This has been considered a breakthrough in Pakistan's relation with the U.S. as in previous tenures of the Pakistani governments, America has been demanding Pakistan to "do more" to curb terrorism; however this wasn't the case during Gen Bajwa's visit.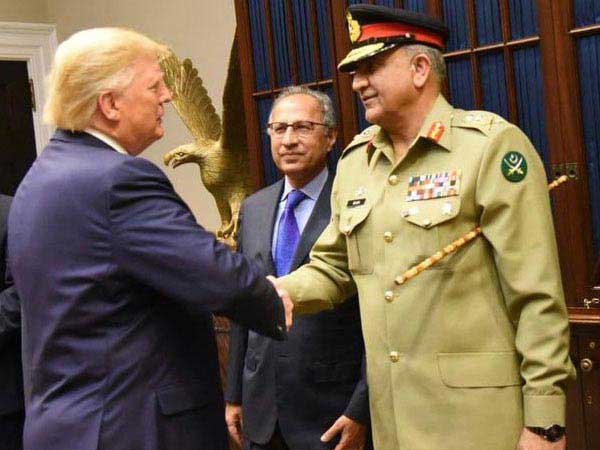 ---
Gen Bajwa vows to guard Holy mosques
---
Army Chief General Qamar Javed Bajwa called on Saudi King Salman bin Abdul Aziz Al Saud in December, 2016.
The Saudi king and the army chief agreed that both the countries share great history of cordial relations and deep spirit of brotherhood which has transformed into an enduring partnership, read the Inter-Services Public Relations statement.
It was also acknowledged that both Pakistan and Kingdom of Saudi Arabia are vital players in regional stability, "with significant responsibility towards the entire Muslim ummah".
Both leaders re-emphasised the need to continue working to eliminate the menace of terrorism and reinforce the mechanism to roll back extremism with even greater vigour.
Gen Bajwa reiterated Pakistan's commitment to the security and protection of the Holy Mosques and also the territorial integrity of the kingdom.
The army chief, who is on an official visit to Saudi Arabia, held a series of meetings on Sunday.
He held meeting with deputy crown prince and the defence minister Muhammad bin Salman to discuss matters related to mutual interests and bilateral security cooperation. The Defence Minster reassured Gen Bajwa that the kingdom supports peace and stability in Pakistan in every way.
Later General Bajwa met Chief of General Staff of Saudi Forces Gen Abdul Rehman bin Saleh Al Bunyan to discuss military to military relations, defence cooperation and regional security situation. Both leaders agreed to boost military cooperation and collaboration.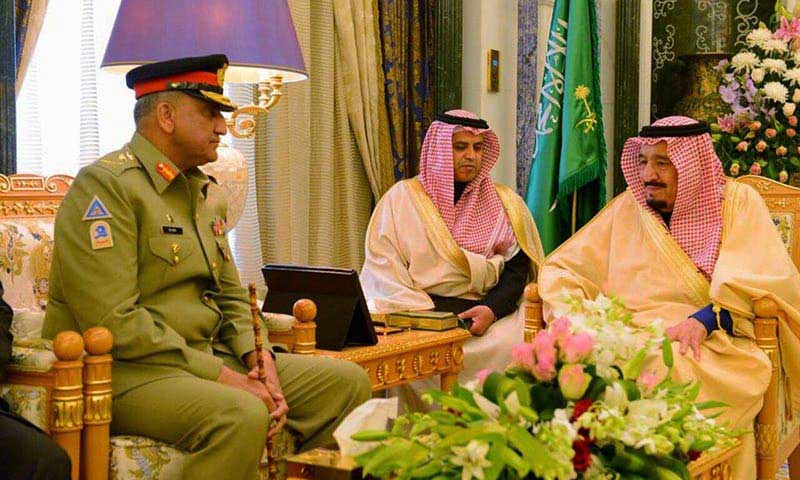 ---
Effective Military Diplomacy
---
General Bajwa further expanded the military diplomacy of Pakistan Army and became strategic player from operational or tactical one.During his tenure he held high level one to one meetings with many heads of state including some key figures like Xi Jinping, Hassan Rouhani, King Sulaeman and Tayyab Erdogan. Whether it was Yemen Crisis, KSA blockade of Qatar, Iran KSA rivalry, Pak India Kortarpur Corridor, Pak Iran border terror issues or Afghan Taliban peace process with US in each of these Gen.Bajwa played a key role and enhanced the geopolitical profile of Pakistan Army manifold.