Last Updated On 16 August,2019 10:20 am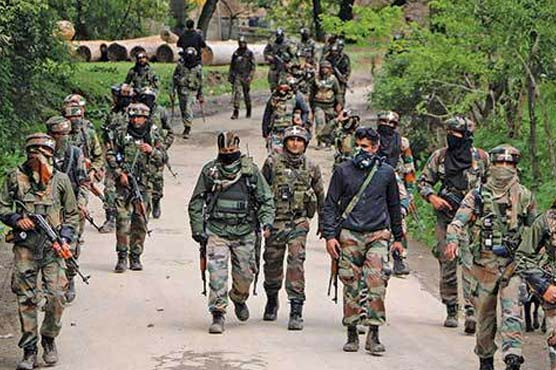 Millions of Kashmiris have been deprived of their liberties and fundamental rights during the curfew
SRINAGAR (Web Desk) - Kashmiris, all across the world are observing the Indian Independence Day, August 15, as Black Day to convey the message to the international community that they reject India's illegal occupation of their motherland.
The Black Day is also being observed to register strong protest against the Indian unilateral action to change the disputed status of occupied Kashmir.
On the other hand, the occupied forces continued to impose strict curfew and other restrictions across the Kashmir valley on the 11th straight day, today, to prevent people from holding anti-India demonstrations, Kashmir Media Service reported.
Millions of Kashmiris have been deprived of their liberties and fundamental rights during all these days. They have been stripped off of all their rights. Internet broadband, telephones and TV channels continuously remain snapped. The occupied territory remains cut off from the rest of the world. People are deprived of essential commodities like baby food and life-saving medicines. No access is given to patients to hospital and the territory is giving the picture of a humanitarian crisis.
The Kashmir Council Europe (KCEU) organized a protest demonstration in front of the Indian Embassy in Brussels to mark the Indian Independence Day, today, as Black Day.
The President of London-based Jammu and Kashmir Council for Human Rights (JKCHR), Dr Nazir Gilani, in view of the scrapping of Articles 370 and 35-A of Indian Constitutions, has urged the Pakistan Prime Minister Imran Khan to reiterate Pakistan's suggestion to the United Nations Security Council for taking steps to ensure deployment of UN forces in occupied Kashmir.
The United Nations Security Council (UNSC) on Friday (August 16) in New York will meet over India's moves in occupied Kashmir following a formal request by Foreign minister Shah Mahmood Qureshi in a letter to UNSC President Joanna Wronecka under the agenda item 'India-Pakistan question'.
The session is being considered as a big success for Kashmir and Pakistan as the debate is happening after decades.