Last Updated On 31 July,2019 08:50 pm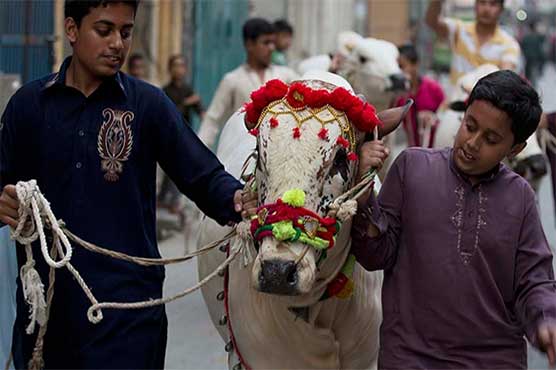 A notification has been issued by the Ministry of Interior to all public and private departments
ISLAMABAD (Dunya News) – The federal government has announced four holidays from August 12 to August 15 in connection with Eidul Azha.
A notification has been issued by the Ministry of Interior to all public and private departments pertaining to eid holidays.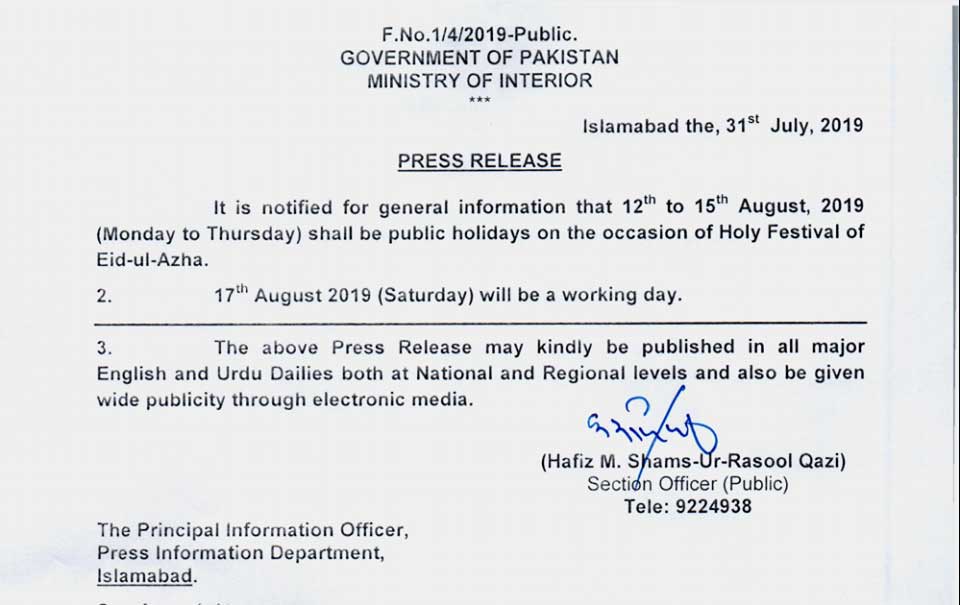 Eidul Azha holidays have been given from August 12 to August 15, while August 17 would be the working day.
---
What is Eidul Azha
---
Eidul Azha is one of the two festivals of Islam and is celebrated by all Muslims on the 10th day of Dhu Al Hijja.
---
What do muslims do?

---
The Muslim festival Eidul Azha marks the conclusion of the important worship of Haj or pilgrimage to Makkah. At the end of the Haj, Muslims throughout the world celebrate the holiday of Eidul Azha (Festival of Sacrifice).
During the Haj, Muslims remember the trials and triumphs of the Prophet Abraham. The Qur an describes Abraham (PBUH) as follows:
One of Abraham s main trials was to face the command of almighty Allah to kill his only son. Upon hearing this command, he prepared to submit to almighty Allah s will. When he was all prepared to do it, God almighty revealed to him that his "sacrifice" had already been fulfilled. He had shown that his love for his Lord superceded all others, that he would lay down his own life or the lives of those dear to him in order to submit to God almighty.
---
So why do Muslims sacrifice an animal on this day?

---
During the celebration of Eidul Azha, Muslims commemorate Abraham s trials, by slaughtering an animal such as a camel, sheep or goat. This action is very often misunderstood by those outside the faith.
The meat from the sacrifice of Eidul Azha is mostly given away to those who are more needy, so you are actually feeding the poor. The act symbolizes our willingness to give up things that are of benefit to us or close to our hearts. It also symbolizes our willingness to give up some of our own bounties, in order to strengthen ties of friendship and help those who are in need.