Last Updated On 15 July,2019 02:18 pm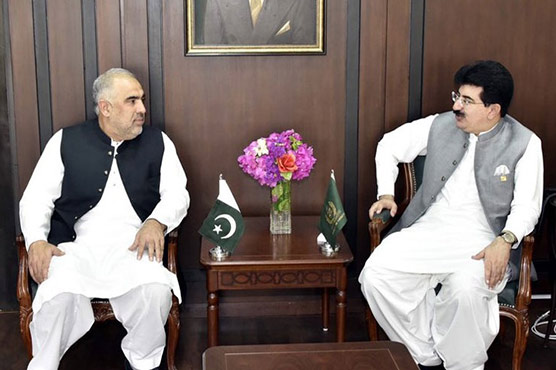 The premier also exchanged views regarding the change of the deputy chairman of the Senate.
ISLAMABAD (Dunya News) – Prime Minister (PM) Imran Khan on Monday held a meeting with senators from erstwhile FATA to take them into confidence over the matter of no-confidence motion against Senate Chairman Sadiq Sanjrani filed by the joint opposition parties.
The premier also exchanged views regarding the change of the deputy chairman of the Senate.
---
CM Buzdar meets Senate Chairman
---
On the other hand, Punjab Chief Minister Usman Buzdar met the chairman of the Senate and expressed assurance of full support amid recent political strife over the matter with the opposition.
"We stand by Senate's Chairman and will," he said.
Responding to a question, he said the government has been examining performance of ministers, and if need arises, portfolios of the ministers could be changed.
He further revealed that funds have been allocated for the secretariat of South Punjab.
---
Speaker Asad Qaiser meets Senate Chairman
---
Earlier, Senate Chairman Sadiq Sanjrani and National Assembly Speaker Asad Qaiser held a meeting in Islamabad and expressed their resolve to further strengthen relations and cooperation between the Upper and Lower Houses.
They said that the legislation and parliamentary affairs were being smoothly processed with cooperative atmosphere between upper and lower houses.
The Leader of the House Shibli Faraz was also present in the meeting.
Talking on the occasion the chairman of the Senate said that the Upper House always witnessed full cooperation from the National Assembly (NA) in constitutional affairs and the Upper House also played a positive role to bring betterment in these affairs.
The speaker said that the opposition parties should keep in mind the respect of the upper house as the "Senate is the symbol of federation having equal representation of all provinces."
He urged the opposition to take steps in strengthening democracy in the country and effective planning should be set to resolve all matters with understanding and reconciliation.
He said the country has been moving towards development through democratic process and cooperation of all political forces in this regard was necessary.