Last Updated On 08 July,2019 05:19 pm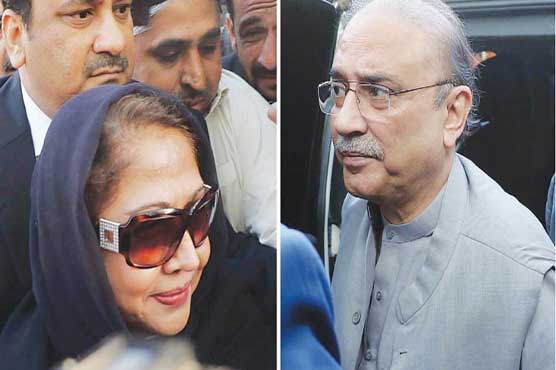 NAB Rawalpindi on Monday presented the former president and his sibling Faryal Talpur in the court.
ISLAMABAD (Dunya News) – Former president Asif Ali Zardari on Monday snatched a mobile phone of a journalist, and later returned him back, when he was posed the question of whether he was hopeful of justice from the court in his trial in the money laundering through fake bank accounts case.
The National Accountability Bureau (NAB) Rawalpindi on Monday produced the former president and his sibling Faryal Talpur before an accountability court for proceedings in the same case.
As the hearing of the case resumed, the superintendent of the Malir Jail and a doctor presented a medical report of Anwar Majeed before the court.
The superintendent, in his written response over the matter, told the court that due to poor health of Majeed, he could not be shifted [to Islamabad].
The court asked: "What do you say, whether or not the case proceeds, he will continue to stay in Karachi?" To this, the jail superintendent responded: "Majeed is 78 years old and has severe health issues."
The court further asked that how he had been moving around before the case. The superintendent further told the court that Majeed could not be shifted via a plane or a car.
Subsequently, the court allowed Zardari and Talpur to leave after marking their attendance.