Three MoUs signed between Pakistan, Qatar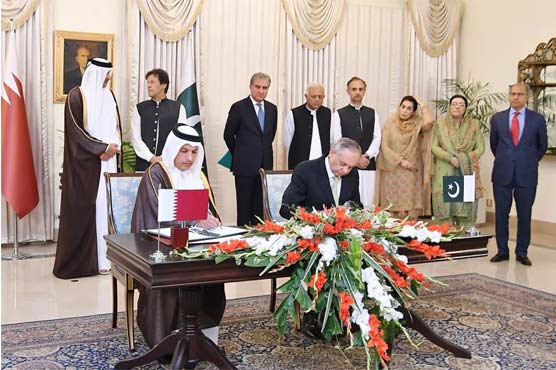 Pakistan and Qatar signed three MoUs to further enhance bilateral cooperation in different areas.
ISLAMABAD (Dunya News) – Three MoUs were signed between Pakistan and Qatar on Saturday for bilateral relations in the trade, investment, tourism and financial intelligence sector at Prime Minister House.
Prime Minister Imran Khan led Pakistani delegation while Qatari Emir headed his delegation in the meeting.
Advisor on Commerce Abdul Razak Dawood and Qatari Finance Minister Ali Shareef Al Emadi signed the MoU for establishment of Pakistan-Qatar joint working group on trade and investment.
Minister for Inter Provincial Coordination Dr Fahmida Mirza and Secretary General of Qatar National Tourism Council Akbar Al Baker signed the MoU on cooperation in the fields of tourism and business events.
The third MoU relates to cooperation in the field of exchange of financial intelligence, anti-money laundering and to check terror financing.
Prime Minister Imran Khan and visiting Qatari Emir also witnessed the signing ceremony.
Earlier today, Emir of Qatar Sheikh Tamim bin Hamad Al-Thani arrived in Pakistan on a two-day visit. Prime Minister Imran Khan received him at Nur Khan airbase and personally drove him to the PM House. Qatari Emir was presented with a guard of honor at the PM House.
Sheikh Tamim bin Hamad Al Thani was accorded a red carpet reception.
The route from Nur Khan Airbase to Red Zone Islamabad was adorned with portraits of visiting guest as well as the flags of both countries.
At Prime Minister House, a smartly turned out contingent representing army, navy and air force presented Guard of Honor to the distinguished guest. A JF-17 squadron of PAF saluted the guest in a magnificent fly past.
Prime Minister introduced members of his cabinet with the guest. They included Foreign Minister Shah Mehmood Qureshi, Special Assistant to Prime Minister on Overseas Pakistanis Syed Zulfikar Bukhari and others whereas Qatari Emir also introduced his delegation to PM Khan.
Sheikh Tamim bin Hamad Al Thani planted a sapling at the lawn of Prime Minister House as per tradition.
---
Foreign Minister Qureshi receives Qatari counterpart
---
Qatar's Minister of Foreign Affairs, who is also Deputy Prime Minister, Sheikh Mohamed bin Abdul Rahman al-Thani arrived at Nur Khan Airbase in Rawalpindi this afternoon and was accompanied by a Qatari delegation as reported by Radio Pakistan.
Foreign Minister Shah Mehmood Qureshi received his Qatari counterpart. They held one on one meeting in which they discussed bilateral relations and issues of mutual interest.
Foreign Minister Qureshi said Pakistan gives special importance to its relations with Qatar. Prime Minister Imran Khan visited Qatar in January this year during which measures to further strengthen bilateral relations came under discussion. He said Pakistanis living in Qatar are playing the role of bridge between the two countries. Trade volume between the two countries has crossed 2.5 billion marks.
Earlier, in a post on the social media, Prime Minister Khan claimed the Qatari emir would announce an investment of around $22 billion.
Previously, Al Thani had toured Pakistan in March of 2015. PM Khan visited Qatar in January this year.